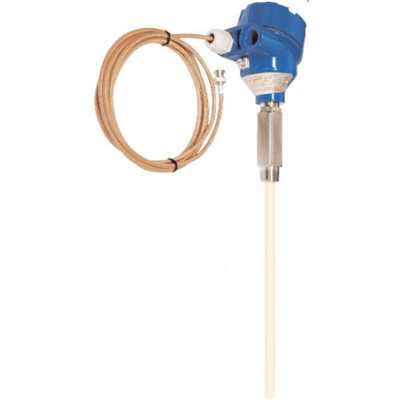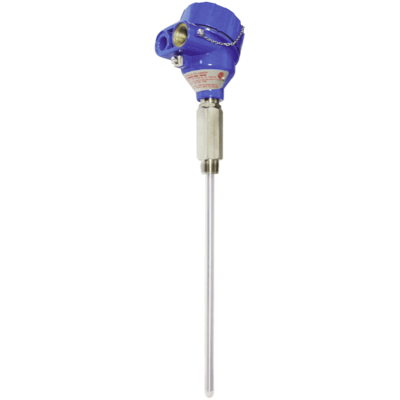 Images are representations only.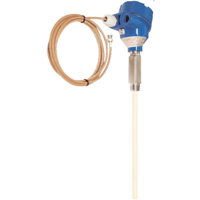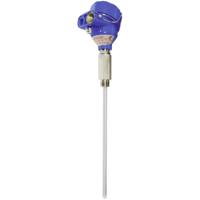 The Intempco LTX22 is a capacitance level sensor designed for modulating level control of liquids in metallic tanks.

The probe is normally installed in a steam boiler, or metal tank, where it is grounded through the process fitting, the boiler tank forming the ground return path.

It can be used in a non-conductive tank if an grounding reference rod is provided. The probe measures level by measuring the change in capacitance as level changes in the tank.

The micro-processor based electronics converts this capacitance change into a linear, highly accurate output signal.

This signal may be used with one or more electronic modules to provide level control, level alarms, and/or outputs to a building management system.

The LTX22 is available with an enclosure and installed electronics or an enclosure and remotely installed electronics in a NEMA 4 box.

The connection is made via coax cable. Remote electronics are a preferred choice for higher ambient temperature applications.
Features
High pressure/temperature design for steam boilers
Transmitter housed in rugged aluminum head or remotely
Microprocessor based design
Accuracy 1% of span for constant dielectric of material
Non-interactive zero and span calibration
Continuous 4-20 mA Analog output operation
High pressure 1/2" and 3/4" fittings available
Ceramic clad, inner stainless probe design
Specifications
Ambient Temperature Range
-40° to 70° C (-40° to 158° F)
Calibration
Via 4 Push-Button Switches, Non-interactive Zero & Span
Humidity
10 to 55 % Relative Humidity
Loop Resistance
700 ohms at 24 Vdc, Maximum
NPT Connection
1/2" NPT Male
3/4" NPT Male
Output
4-20 mA, 2-Wire Loop Powered
Power Supply Effect
< 0.1 % of Output at, Maximum
Pressure Range
bar: 1 to 34
kPa: 100 to 3,400
psi: 14.5 to 500
Process Connection Material
Response Time
2 to 30 seconds with Adjustable Damping Time
Less than 2 to 3 seconds with No Damping Time
Sensor, Probe Diameter
Probe O.D.: 1/2" (12.7 mm)
Sensor, Probe Material
Probe: Ceramic Clad Stainless Rod
Probe: Teflon PFA Clad Stainless Rod
High Pressure/Temperature Steam Boilers
For Level Control in Building Management
Water and Water-Based Liquids.
On-Site Calibration Required
Not Recommended Where Material Dielectric Changes
Tank must be Conducive or Grounding May be Required or See Other Intempco Level Probes.
Do Not Use in High Vibration/Shock Applications