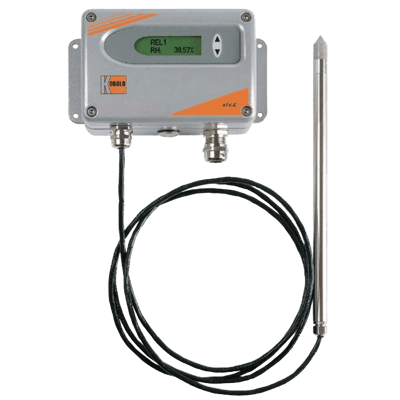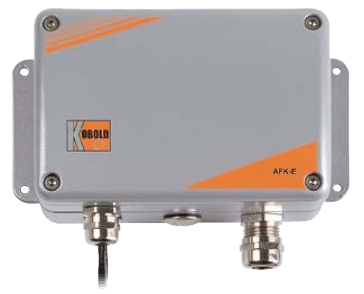 Images are representations only.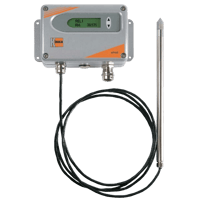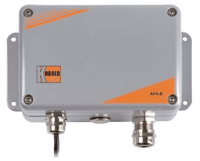 The KOBOLD measuring instruments AFK-E have been designed for the accurate measurement of humidity and temperature in industrial applications. They allow measurements in the range 0 to 100% RH and between -40° to 180° C.

A capacitive humidity sensor element with excellent long term stability, minimum hysteresis and high chemical resistance forms the basis for this highly accurate transmitter series.

The values for humidity and temperature are displayed on two Analog outputs. A scalable and selectable current signal in the range 4-20 mA or any voltage signal between 0-10 V are available for selection.

This flexibility is achieved with cutting-edge microprocessor technology, whereby the scaling and selection of the output signal is carried out with a user-friendly graphic interface running under MS Windows.

The factory setting can thus be changed easily on site by the user. In addition to measured values for humidity and temperature, the transmitters supplies.
Specifications
Accuracy
± (1.3 + 0.3 % of Reading) % Relative Humidity at -15° to 40° C / 90 % Relative Humidity: (Including Hysteresis, Non-Linearity & Repeatability)
Applications
Air Conditioning Cabinets
Cheese Ageing Rooms
Fruit & Vegetables
Humidity of Clean Rooms
Medicines
Pasta & Noodles
Pharmaceutical Products
Storage Warehouses
Wood
Cable Length
6.56 to 65.6 feet (2 to 20 metres)
Consumption
40 mA at 24 Vdc/ac Typically - Current Consumption: 2 × Voltage Output
80 mA Typically - Current Consumption: 2 × Current Output
Electrical Connectors
DIN EN 60751, Category A - Sensor
Screw Terminals - Maximum
Enclosure, Body Material
Aluminum - Fixed Wall Mounting Integrated
Humidity
0 to 100 % Relative Humidity
Loop Resistance
< 500 ohms - Analog Outputs
Operating Temperature
-40° to 60° C (-40° to 140° F) - without Display
Operating Temperature - Display
-20° to 50° C (-4° to 122° F)
Operating Temperature - Sensor
-40° to 180° C (-40° to 356° F)
Output
< 1 mA - Analog Outputs
0-10 V - Analog Outputs
0-20 mA - Analog Outputs
0-5 V - Analog Outputs
15 mA Typically - with Plug-In Power Supply Unit: 2 × Voltage & Current Output
4-20 mA - Analog Outputs
Power Requirement
100-240 Vac - Optional Plug-In Power Supply Unit
Response Time
< 15 seconds - with Metal Screen: T 10/90 at 20° C
< 6 seconds - without Filter: T 10/90 at 20° C
14 seconds - with PTFE Filter: T 10/90 at 20° C
30 seconds - with Stainless Steel Sintered Filter: T 10/90 at 20° C
RFI/EMI Protection
EN 61326-1 - Industrial Environment
EN 61326-2-3
Sensor / Probe Type
Pt 1000 - Sensor: (DIN EN 60751, Category A)
Supply Voltage
12-30 Vac - SELV
8-35 Vdc - SELV
Temperature Effect
± 0.01 % Relative Humidity/°C - Temperature Dependence of Electronics
0.005° C/°C - Temperature Dependence of Electronics