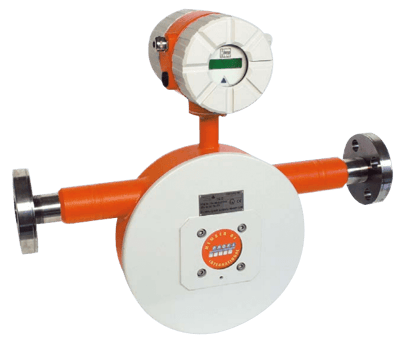 Images are representations only.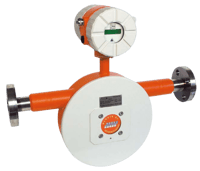 The TM Series Mass Flow Meter utilizes the Coriolis principle of operation to measure mass flow. Density and temperature are simultaneously monitored and volumetric flow is additionally calculated with these parameters.

The TM Series is available with a direct mounted transmitter or in a remote mounted configuration. The TM Series can be used to meter nearly all liquid or gaseous media. Available in a variety of end connections, the TM can be used in many applications. The TM Series is also used for precise dosing applications.
Features
Superior Accuracy
Industry's widest selection of wetted materials
Thick pipe wall construction
Specifications
Accuracy
± 0.1 % of Reading, ± Zero Point Stability - Liquid
± 0.15 % of Reading, ± Zero Point Stability - Liquid
± 0.2 % of Reading, ± Zero Point Stability - Volume
± 0.5 % of Reading, ± Zero Point Stability - Gas
Ambient Temperature Range
-20° to 80° C (-4° to 176° F)
Approvals & Certifications
BVS 05-ATEX-E 021 X
CE
Ex
FM
IEC
NEPSI
Communication
HART
Modbus RTU (RS-485)
PROFIBUS PA
Electrical Connectors
Junction Box
M20×1.5
Plug Connection
Electromagnetic Interference Effect
EMC-Directive 2004/108/EG
Electromagnetic Rating
EMC-Directive 2004/108/EC
EMV -Guide Line 2004/108/EC
Enclosure / Body Material
Flange Size - 1" (DN 25)
1" (DN 25) - 150 ASME B16.5
1" (DN 25) - PN 40
Flange Size - 1/2" (DN 15)
1/2" (DN 15) - 150 ASME B16.5
1/2" (DN 15) - PN 40
Flange Size - 2" (DN 50)
2" (DN 50) - 150 ASME B16.5
2" (DN 50) - PN 40
Flange Size - 3" (DN 80)
3" (DN 80) - 150 ASME B16.5
3" (DN 80) - PN 40
Flange Size - 3/4" (DN 20)
3/4" (DN 20) - 150 ASME B16.5
Flange Size - 3/8" (DN 10)
Input
1.8 W
200 mA
24 V
3 W
30 V
60 mA
Counter Reset
Mounting
Integral Mounting
Remote Mounting
Output
30 V
4-20 mA
Galvanically Isolated
Optocoupler
Passive
Power Requirement
19-36 Vdc
24 Vac ± 20 %
90-265 Vac
Process Temperature
-40° to 180° C (-40° to 356° F)
RFI/EMI Effect
EN 61000-6-2: 1999 Immunity
EN 61000-6-3: 2001 Emissions