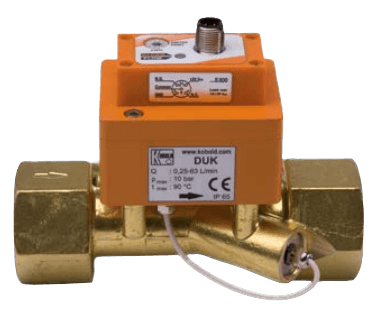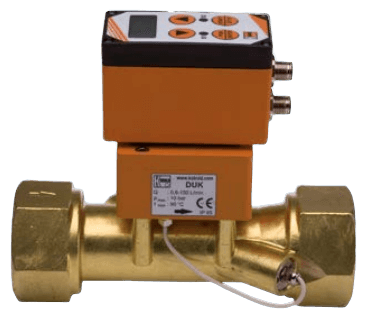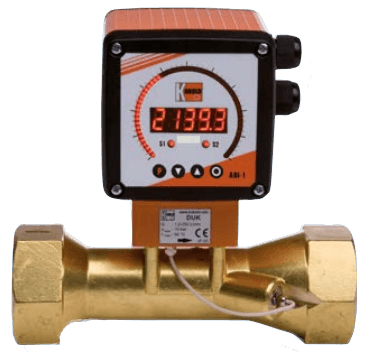 Images are representations only.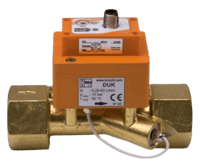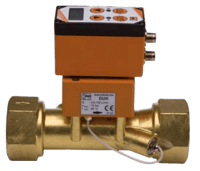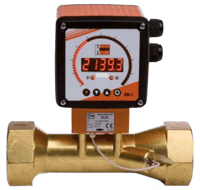 The new KOBOLD type DUK Flow Meters are used for the measurement, monitoring, metering and dosing of low viscosity fluids. The devices work on the principle of the difference in running times.

This is based on the fact that ultrasonic waves in a medium are influenced by the speed of flow. Two sensors mounted opposite one another in the pipeline function simultaneously as transmitter and receiver of ultrasound signals.

If there is no flow, then the running times of both signals are identical. If the medium is flowing, then the running time of the signal against the flow is longer than that with the flow.

The running time difference, which is determined by a microprocessor, is proportional to the speed of flow. The devices can be equipped with a switching output, a frequency output or an Analog output.

In addition, a compact circuit can be selected that features a digital display, a switching output and an Analog output.

The device series is rounded off by an optionally available dosing and meter circuit. The meter circuit indicates the momentary flow rate in the first line of the display and the partial or total quantity in the second line.

A dosing circuit controls simple filling tasks and similarly measures flow rates, total amounts and filling amounts. The Analog output and two relay outputs can be used for further processing of the signals.
Specifications
Accuracy
± 0.1 % of Full Scale - High Repeat Accuracy
0.7 % of Full Scale
0.7 % of Reading
Ambient Temperature Range
-20° to 70° C (-4° to 158° F)
Applications
Automotive
Cooling Circuits
Hot Water
Machine Building
Robotics
BSP Connection
G 1" Female
G 1/2" Female
G 1-1/2" Female
G 2" Female
G 3" Female
G 3/4" Female
Consumption
100 mA Approximately - Compact Electronics
170 mA Approximately - Dosing & Counter Electronics
25 mA
30 mA
Maximum
Display
2 × 8-Digit LCD Display - Counter Electronics
3-Digit LED Display - Compact Electronics
5-Digit Digital Display - ADI Electronics
Bar Graph - ADI Electronics
LED Display
Electrical Connectors
Cable
Cable Gland
DIN 43650
M12 Plug, 5-Pin
Plug Connector M12×1
Pluggable Terminal Block
Electrical Contacts
N/O or N/O Programmable - Compact Electronics
Enclosure, Body Material
316 Stainless Steel
Brass
Flow Rate
0.08-20 to 2.5-630 L/minute
Function
Flow Monitor
Language
Minimum/Maximum
Monitoring for Part
Reset
Total Quantity
Maximum System Pressure
psi: 232.1 (kPa: 1,600, bar: 16)
Mounting Position
In All Directions, Flow in Direction of the Arrow (Horizontal: Electronic on Top or Below)
NPT Connection
1" NPT Female
1/2" NPT Female
1-1/2" NPT Female
2" NPT Female
3" NPT Female
3/4" NPT Female
Output
0-10 Vdc - Analog (ADI Electronics)
1 A at 30 Vdc - Relay SPDT (Switching Output)
2 A at 30 Vac/Vdc, Maximum
200 mA - Maximum
24 Vdc Active - Switching Output
4-20 mA, 3-Wire
60 VA at 30 Vac/Vdc, Maximum
Open Collector - Impulse Output
PNP - Impulse Output
Output Format
PNP or NPN Semiconductor - Compact Electronics
Output Function
Normally Closed
Normally Open
Power Requirement
100-240 Vac ± 10 %
10-40 Vdc
18-30 Vac
24 Vdc ± 20 %
Pressure Range
psi: 0 to 232.1 (kPa: 0 to 1,600, bar: 0 to 16)
Process Temperature
-20° to 120° C (-4° to 248° F)
Programming
2 Buttons - Compact Electronics
4 Button - Counter, Dosing & ADI Electronics
Relay Output
2 Changeover Contacts
2 Relays
Response Time
0.5 to 1 second Approximately at Flow Change > 10  % of Full Scale
Seat / Seal Material
FPM - Wetted Materials
NBR - Wetted Materials