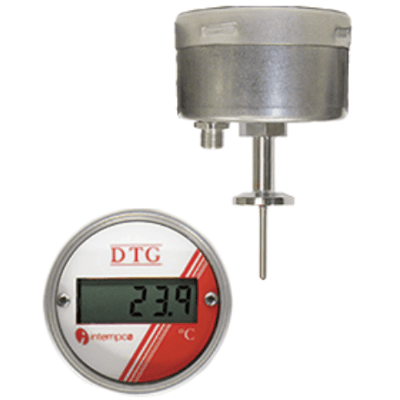 Images are representations only.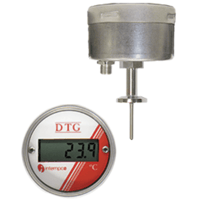 Intempco Sanitary DTG Series battery powered LCD Digital Temperature Gauge, is a step above all competition, providing accurate and reliable electronic temperature indication.

Because of the robust IP67 housing all stainless design, they offer protection against moisture and dust penetration.

The DTG can be used as a direct replacement for Bi-Metal, Liquid Bulb and Glass Thermometers where no power is available. All models are factory calibrated for maximum accuracy.

The DTG's 4-digit 1/2" (12.7 mm) LCD display can be factory set in units of °C or °F. With resolution to a tenth of a degree, the DTG takes the guesswork out of reading dials and mercury columns.

Models with the programming option can be re-calibrated by performing a one-point or two-point calibration using known temperature standards with Intempco's DTG programming kit.

This is where the DTG leaves the competition behind. Calibration, display resolution and other features are all programmable.

Powered by two high performance 3.6 V "AA" batteries, this thermometer will provide a minimum of five years continuous operation before batteries require replacement.

The DTG wetted parts are all fabricated from stainless steel 316L. The RTD element used is Pt-1000 standard accuracy to DIN IEC 60751 Class A.

Each DTG has the part number, range and serial number marked on the thermometer housing.
Features
Sanitary 3-A qualified
Battery powered, 2 AA 3.6 Vdc, life 5 years minimum
Large 4-digit LCD display
Fractional Size
High accuracy Microprocessor Based
Utilizes Pt-1000 Ohm RTD Class A element for temperature sensing
Resolution 1/10 of a degree
IP67/NEMA 4X (Waterproof )
All stainless steel 316 construction
Display in degree C or F
Programming and calibration option available
Meets CFIA design requirements for Digital Thermometers
Self diagnostic circuitry with error indication
Specifications
Accuracy
± (0.2 + 0.001 × |T|) °C, ± (0.36 + 0.001 × |T-32|) °F Option
± (0.2 + 0.002 × |T|) °C, ± (0.36 + 0.002 × |T-32|) °F Factory
Ambient Temperature Range
0° to 50° C (32° to 122° F)
Approvals & Certifications
Cable Length
15 feet (5 metres)
6 feet (2 metres)
Cable Material
PVC
Silicone
Teflon Insulation 200° C (392° F), Teflon with Stainless Steel Armour Covered with Polyolefin or Teflon Shrink
Display
4-Digit LCD Display 1/2" (12.7 mm)
Operating Pressure
Probe - psig: 500 (kPa: 3,447, bar: 34.47) - Maximum
Resolution
Display: 0.01 at Viewable Range -99.99 to 99.99
Display: 0.1 at Viewable Range -58 to 392
Display: 1 at Viewable Range -328 to 1,112
RTD Type
Pt100, 3-Wire, Class A DIN IEC 60715
Pt1000 ohm, 3-Wire, Class A DIN IEC 60715
Sensor, Probe Diameter
1/8 to 1/4" (3.175 to 6.35 mm)
Sensor, Probe Type
RTD 3-Wire, Class A DIN IEC 60715
Storage Temperature
-20° to 70° C (-4° to 158° F)
Temperature Effect
< 0.01 % of Full Scale/°C
Temperature Range
Low Temperature Display: -50° to 200° C (-58° to 392° F)
Sensor: -200° to 600° C (-328° to 1,112° F)
Tri-Clamp Connection
1/2" Hygienic Clamp Union
3/4" Hygienic Clamp Union
Replacement for Bi-Metal, Liquid Bulb and Glass Thermometers
Pharmaceutical
Food Preparation