Images are representations only.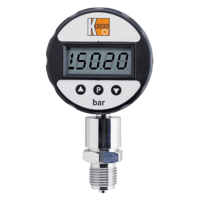 The intelligent KOBOLD digital manometers are used for the display, monitoring and remote transmission of pressure-dependent operating sequences in machines and installations.

The pressure to be measured is sensed by a piezo-resistive sensor and displayed by the electronics. As an option, an Analog output signal for remote transmission of the measured values and a relay output are available.

The values are shown on a four-digit LCD display. The front cover along with the display can be rotated. In the pressure switch design with integrated relay, the switching point and hysteresis can be set on the membrane keypad.

The starting and end points of the optional Analog output, relative to the display, are freely scalable.

A wide range of process connections is available as an option. The process connection can be rotated in axial direction as desired, after loosening the counter nut.
Specifications
Ambient Temperature Range
0° to 60° C (32° to 140° F)
Applications
Environmental Engineering
Hydraulic Applications
Mechanical Engineering
Plant Construction
BSP Connection
G 1/2" Male (Range ≥ 1000 bar)
G 1/4" Male
Cable Length
10 feet (3 metres) - Maximum
18" (0.5 metres) - Standard
Display
0.5" (12.7 mm) LCD
4-Digit LCD
Electrical Connectors
M12 × 1 Round Connector
PVC Cable
Load Impedance
< 500 ohms
≥ 100 kiloohms
NPT Connection
1/2" NPT Male (Range ≥ 1000 bar)
1/4" NPT Male
Power Requirement
24 Vdc ± 20 %
9 Vdc (Block Battery, IEC 6 LR 01)
Pressure Range
bar: -1 to 1,600
kPa: -100 to 1,60,000
psi: -14.5 to 23,210
Process Connection Material
Process Temperature
-30° to 85° C (-22° to 185° F)
Response Time
4 to 64 minutes - Automatic Switch-Off
Seat / Seal Material
NBR (Range ≤ 600 bar) - Wetted Materials
Sensor, Probe Material
Aluminum Oxide (Range ≤ 600 bar) - Wetted Materials
Ceramic (Range ≤ 600 bar) - Wetted Materials
Stainless Steel (Range > 600 bar)- Wetted Materials
Storage Temperature
-30° to 80° C (-22° to 176° F)
Temperature Coefficient
≤ ± 0.1 % of Full Scale/10K - Range
≤ ± 0.2 % of Full Scale/10K - Zero Point
Zero Offset
≤ ± 25 % - Zero Point Correction