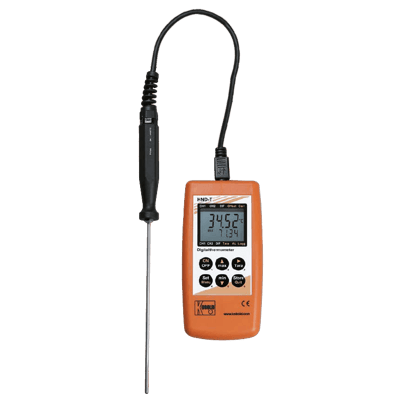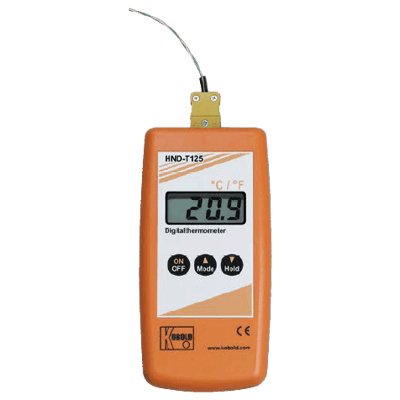 Images are representations only.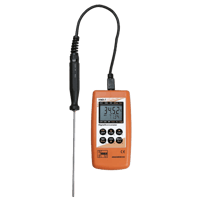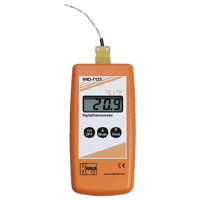 The Kobold hand-held temperature measuring units HNDT120/T125 make it possible to measure the temperature with a type K thermocouple element probe. With a very large selection of temperature probes, these compact housings can also perform nearly any measurement task.

Nearly all measuring tasks for the determination of temperature can be performed with the HND-T series KOBOLD manual temperature measuring units. Various housing designs make it possible to find the right housing with the appropriate equipment for every application.

The large selection of temperature probes can be supplied as Pt100 sensors or as thermocouple elements. The delivery program of the HND-T housings ranges from high-precision thermometers with a high degree of accuracy and extensive additional functions to the standard thermometer for fast and simple measurement.
Specifications
Accuracy
± 0.03 % mV
± 0.1 % mV
± 0.2 % of Full Scale
≤ 0.03° C (≤ 0.054° F)
1 % ± 1-Digit
Applications
Apparatus Construction
Chemical
Container Construction
Food Industry
Machine Construction
Pharmaceutical
Piping
Battery Life
Approximately 2,000 Hours
Approximately 700 Hours
Consumption
Approximately 0.15 mA
Approximately 0.3 mA
Approximately 0.4 mA
Approximately 1 mA
Approximately 1.6 mA
Dimensions
142 × 71 × 26 mm (H × W × D)
Display
2 × 4-1/2-Digit LCD
2 × 4-Digit LCD
3-1/2-Digits
Electrical Connectors
3-Pin Jack
4-Pin Mini DIN Plug
Enclosure, Body Material
Impact-Resistant ABS Plastic
Humidity
0 to 95 % Relative Humidity
Interface Connection
RS-232 Serial Interface
USB Port
Operating Temperature
-25° to 50° C (-13° to 122° F)
Power Requirement
9 V Monobloc Battery, External 10.5-12 Vdc Via Jack
Resolution
0.01° C
0.1° C
1° C (1° F)
Sensor / Probe Type
J Thermocouple
K Thermocouple
N Thermocouple
Pt1000
S Thermocouple
T Thermocouple
Storage Temperature
-25° to 70° C (-13° to 158° F)
Temperature Range
-220° to 1,768° C (-364° to 3,214° F)