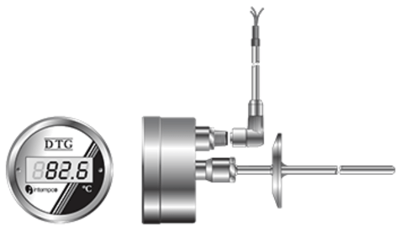 Images are representations only.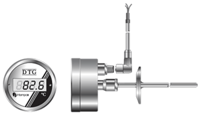 The DTG30 Series Digital Temperature Gauge is a complete solution for most sanitary temperature monitoring and temperature indicating applications.

Of high quality construction, this gauge features a bright and large 4-digit red LED display with an Analog 4-20 mA output.

Based on Intempco's patented MIST technology, the DTG is designed for optimum accuracy and performance.

The DTG is an ideal replacement for bi-metal, liquid bulb and gas thermometers. The series DTG30 can be factory calibrated to customer specified temperature range.

As with any other MIST series sensor, the DTG built-in programmable transmitter can be re-scaled and re-calibrated using the optional PC interface module and software.

Housing, probe and fitting material are all fabricated from stainless steel 316. Standard extension cables are offered in PVC, Silicone, Teflon insulated or stainless steel armored jackets.

The series DTG30's arrive factory scaled and calibrated to the customer's specified temperature range.

No costly field calibration is required. If the application changes, the DTG can be re-scaled at any range within the sensor limits while maintaining its accuracy.

No re-calibration requiring costly temperature baths is necessary. Re-programming is done with the optional PC interface module and software.
Features
Sanitary 3-A qualified
Large 4-digit red LED display
Field re-programmable with optional PC interface module and software
Security password and tracking protection for re-programming and re-calibration
4-20mA programmable linearized signal output
Utilizes self-calibration feature for accurate and stable performance
Utilizes Pt-100 Ohm RTD Class A element for temperature sensing
Micro M12 male plug or cable gland for electrical connection
IP 65/NEMA 4 rated environmental protection
All stainless steel 316 construction
Easy installation with various mounting configurations
Specifications
Approvals & Certifications
Cable Length
15 feet (5 metres)
6 feet (2 metres)
Cable Material
PVC Insulation 90° C (195° F) - Maximum
Diameter
Sheath Outer Diameter: 1/4 to 5/8" (6.4 to 15.9 mm)
Tip Outer Diameter: 1/8 to 1/4" (3.2 to 6.4 mm)
Output
4-20 mA, 3-Wire Upscale/Downscale Burn-Out
RTD Type
Pt100 DIN EN 60751, Class A
Sensor, Probe Diameter
1/4" to 1/2" (6.3 to 12.7 mm)
Sensor, Probe Material
316 Stainless Steel
316L Stainless Steel
Temperature Range
Sensor: -200° to 600° C (-328° to 1,112° F)
Tri-Clamp Connection
1" Hygienic Clamp Union
1.5" Hygienic Clamp Union
2" Hygienic Clamp Union
2.5" Hygienic Clamp Union
3" Hygienic Clamp Union
For Sanitary 3A Applications
Ideal Replacement for Bi-metal, Liquid Bulb and Gas Thermometers
Resistant to Water Spray, Moisture and Vibration
Pharmaceutical
Food Preparation
Milk and Dairy
Pasteurizers
Sterilizers