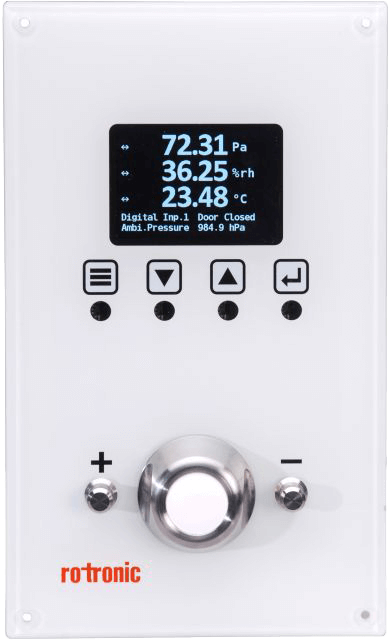 Images are representations only.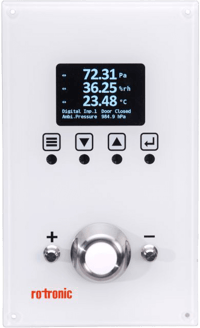 The Clean Room Panel, which is fitted with a diaphragm sensor for differential-pressure measurement, is a top-quality device.

Validated according to GMP directives, and with its well thought-out design, the CRP5 is optimized for applications in laboratories and clean rooms.

Optical buttons, and the magnet-mounted, removable HC2-CRP humidity and temperature probe permit efficient and effective cleaning.

Up to 6 measurement values and messages can be displayed via its graphical color display. The colors of the display can be adjusted individually.

Alarms, such as faults, exceeded limit values, or warnings are highlighted on the CRP5 display, and can also be forwarded digitally via MODBUS, Ethernet, or relays.

Thanks to its analog and digital communication capabilities, the CRP5 is very easy to integrate in any monitoring system.

Its comprehensive functional capabilities allow the CRP5 to be configured perfectly for each application.

The CRP5 is distinctive in the marketplace through its tough glass front plate and a removable humidity sensor.
Features
Measures differential pressure, humidity and temperature
Designed specifically for clean rooms
Removable humidity and temperature probes for simpler adjustment and cleaning
FDA- and GAMP-compatible
Digital communication via Ethernet RJ45 and/or MODBUS TCP / RTU
Analog input and output signals freely configurable
Glass front panel highly resistant to chemicals
Optical operating elements for operation with protective gloves
Specifications
Power Consumption
20...48 Vdc / 18...35 Vac < 500 mA
IP Protection Rating
Front: IP65 (Also with sensors removed)
Back: IP20
Analog Output Signal (Standard)
0 / 4...20 mA or 0...1 / 5 / 10 V
Communication Interfaces
Ethernet (Modbus TCP, HW4) / RS-485 (Modbus RTU, HW4)
Weight
1,700 g (with humidity sensor)
1,550 g (without humidity sensor)
Housing
Front: Glass
Back: Sheet Steel
CE / EMC Conform
EMC Directive 2004/108/EC
FDA / GAMP
FDA 21 CFR part 11 / GAMP5
Zero Drift
Compensated (manual or automatic zero adjustment)
Accuracy Analog Output
± 5 mV (voltage output)
± 20 μA (current output)
Switching Capacity
< 50 Vdc at < 2 A when observing polarity
< 35 Vac at < 1 A, irrespective of polarity
Storage and Transport Conditions
-5...60° C (23...140° F) / 0...100 % Relative Humidity
Parameters
Differential pressure, temperature, relative humidity, digital and analog inputs
Medium
Air and non-aggressive gases
Permissible Load
> 10 kΩ (voltage output)
< 500 Ω (current output)
Measurement Range
± 50 Pa / ± 100 Pa / ± 250 Pa / ± 500 Pa &
-100...200° C (probe-dependent) / 0...100 % Relative Humidity
Pressure Connections
Front: Hose connectors Ø 6 mm × 10 mm
Back: Hose connectors Ø 4 mm × 10 mm
Probes
HC2-CRP, alternatively: any HygroClip2 probe
The CRP5 clean-room panel is the obvious choice wherever a high degree of cleanliness is vital, in addition to precise measurement of differential pressure, humidity, and temperature. 
The CRP5 is used particularly in clean-rooms in hospitals, in the pharmaceutical, electronics, and foodstuffs industries, and wherever small variances in pressure are monitored. 
The very comprehensive functional capabilities of the CRP5 provide solutions for many measurement and control tasks.