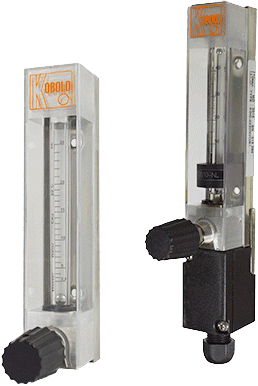 Images are representations only.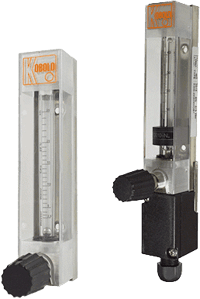 KOBOLD KDG/KDF-9 compact micro flow meters with switches operate on the variable-area, or rotameter, float principle and are designed for the measurement of very low gas and liquid flows.

Flow can be set exactly within the measuring range using the integral precision metering valve.

All ranges on this rotameter can be optionally fitted with 1 adjustable inductive proximity switch which may be configured to identify certain flow conditions.

Two flow switch types are available: 1.) Monostable: Switch activates momentarily as the stainless steel float passes by upon rising or falling flow or 2.) Bistable: Switch activates as the stainless steel float rises and remains active until the float falls past the switch on decreasing flow.

All micro flow meters with a flow switch require the addition of a suitable external, NAMUR relay for operation.
Features
Integral Flow Control Valve
Easy to Read Scale
Compact Design
Direct Reading Scales for Water and Air
Switching for Low Flows of Liquids and Gases
Certificates/Approvals: ATEX
Specifications
Available Measuring Ranges
0.02-0.25 L/hr to 10-100 L/h
2-20 Nl/h to 300-3000 Nl/h
Fittings
1/4" NPT Thread
Hose Connection
Material
Glass
FPM Seals
FFKM Seals
Stainless Steel
Maximum Media Temperature
212° F
158° F with Switch