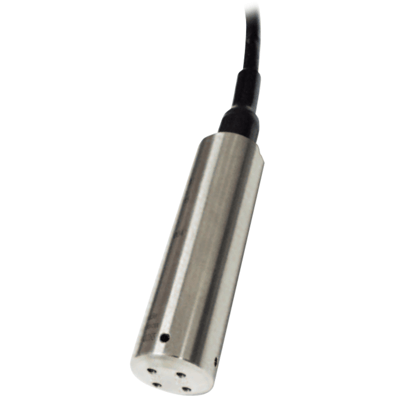 Images are representations only.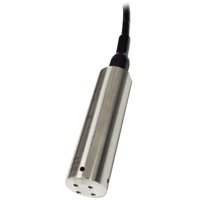 Model LHT11 submersible hydrostatic level transmitter is designed for applications where high reliability, long term stability and accuracy are required.

It is easy to install and is ideally suited for protecting submersible pumps in deep wells.

The level metering is based on the measuring of the pressure difference between the hydrostatic pressure of the liquid head over the diaphragm and the actual atmospheric pressure.

This pressure difference is converted into 4-20 mA current in the 2-wire version and 0-5 Vdc or 0-10 Vdc voltage in the 3-wire version.

The LHT11 consists of a stainless steel measuring cell, transmitter, stainless steel probe and a special breathing cable.

Stainless flush diaphragm is protected by use of a stainless protection cap. Easy installation and wiring is ensured by the use of the complete set of accessories.

For outdoor measurements the application of over voltage protection is suggested.
Features
Measuring range 0 to 300 meter (0 to 900 feet) water column
Accuracy 0.25% of full scale
Utilizes diffused silicon sensor
Multiple pressure ranges and signal outputs available
Compact all stainless steel probe
Reliable and compact
Dirt resistant
Surge and polarity protection available
Specifications
Accuracy
± 0.12 % BFSL (0.25 % of Span)
± 0.25 % BFSL (0.50 % of Span)
Ambient Temperature Range
Approvals & Certifications
EMC (EMI: EN 50081-1/-2, EMS: EN 50082-2)
Cable Length
0 to 900 feet (0 to 300 metres)
Cable Material
Polyethylene
Polyurethane
Compensated Temperature
-10° to 70° C (14° to 158° F)
Diaphragm Material
316L Stainless Steel, 1.4404
Electrical Connectors
Cable Cross Section: 0.34 mm²
Shielded, Breathing Cable Ø 0.28" (Ø 7 mm)
Enclosure, Body Material
316 Stainless Steel, 1.4571
Measuring Range
0 to 656 feet (0 to 200 metres) Water Head
Output
2-Wire, 4-20 mA
3-Wire, 0-10 V
3-Wire, 0-5 V
Pressure Range
bar: 0 to 27.58
kPa: 0 to 2,758
psig: 0 to 400
Temperature Range
-10° to 80° C (14° to 176° F)
Water Deep Well Monitoring
Water Storage Tanks
Water Saving Irrigation
Urban Flood Control
Waste Water Treatment
For Oil, Diesel Fuel and Mild Corrosive Liquids