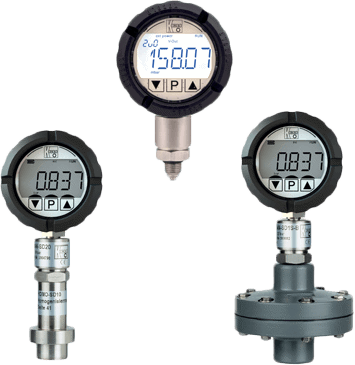 Images are representations only.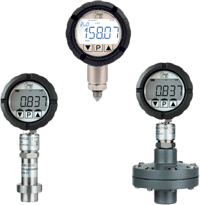 The KOBOLD MAN-SC and MAN-LC are the first electronic digital pressure gauges worldwide to be offered with IO-Link.

They offer a variety of features, such as: two configurable outputs, a five digit, backlit LCD Display that rotates in 90 degree increments, and touch-key programming.

Also unique to the MAN-SC and MAN-LC is the integral ability of the pressure gauge to calculate Force Value, which is easily accessible from the programming menu.

The MAN-LC is 24 VDC powered while the MAN-SC is powered by a battery.

The configurable outputs can be arbitrarily programmed as desired by the end user.

Analog and frequency, plus alarm outputs, are standard. An optional pluggable relay module with two potential-free SPDT contacts is available factory assembled or as a retrofit kit.

A variety of flanged, diaphragm, and hygienic seal process connections are also available.

The MAN-SC/LC offer an impressive range of measuring units, including: PSI, kPa, MPa, bar, mbar, and many more.

Peak memory is featured, as is password protection, and there is also a reset to factory option.

A zero (tare) function is also easily accessible from the menu for easy calibration.

A rubber protection cover is now also available, ideal for test engineers and installations where the pressure gauge may be vulnerable.
Features
5-Digit LCD Display
Capacitive Touchpads
Peak Memory
Analog Output, Frequency Output, Switch Output (MAN-LC)
IO-Link Function (MAN-LC)
Up to 2 Relays Possible (MAN-LC)
Selectable Measuring Units
Tare Function
Stainless Steel Process Connection
Assembly with Numerous Diaphragm Seals Possible
Optional Rubber Protection Sleeve for Rugged Operating Conditions
MAN-SC: Power Supply via 9V Battery
Battery Life: up to 2½ Years
MAN-LC: External Power Supply via 24VDC
Specifications
Accuracy Class
0.5 at reference conditions ± 1-digit
Mechanical Engineering and Plant Construction
Pumps and Compressors
Environmental Technology
Hydraulics and Pneumatics
Process Industry
Load Capacity Measuring