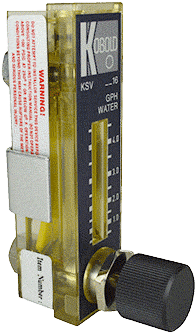 Images are representations only.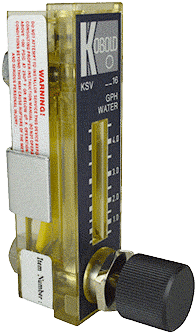 The KOBOLD KSV micro flow meter is a low volume measuring device calibrated for the flow of water or air.

This micro rotameter has a plastic body with metal fittings and is kept leak-tight through the use of O-ring seals.

The floats are stainless steel, glass, hard metal, or titanium, depending on the measuring range. The customer has a choice of various plastics for the body and metals for the fittings. It is supplied with or without a needle valve, depending upon the model.

We generally recommend that the needle valve version be used to help stabilize the float during the introduction of media (particularly gases) into the flow meter.
Features
± 6% Full Scale Accuracy
± 1% Full Scale Repeatability
Excellent Resistance to Acids and Alkaline Solutions
Compact
Easy to Read and Install
Convenient Panel Mounting
Made in the USA
Quick Delivery
Specifications
Measuring Range
0.04-0.4 GPH to 2-20 GPH
0.3-3 SCFH to 10-100 SCFH