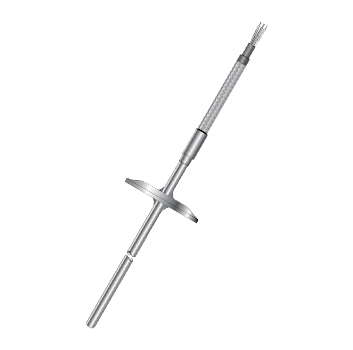 Images are representations only.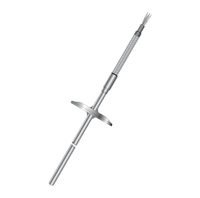 RS22 assemblies are an excellent choice for easy installation into a "tee", "cross", or directly into a sanitary tube.

All popular sanitary connection styles are available. Cable extension options include PVC, Teflon, Teflon with stainless steel armor and Teflon with stainless steel overbraid.

Armor cable can be protected with Polyolefin or Teflon shrink tubing. The probes can be ordered up to 1/2" diameter for applications where long robust probes are required.

If space is an issue, the RS22 can be ordered as a bent probe after the sanitary fitting.
Features
Sanitary 3-A qualified
Sanitary design with hermetically sealed extension cables
All stainless steel 316 construction
Standard or pharmaceutical surface finish
Ideal for installations where use of a connection head is not practical due to limited space
Lead wires: AWG 22, PVC or Teflon insulation, with stainless armor or overbraid
Specifications
Approvals & Certifications
Cable Material
PVC
Stainless Steel Armor over Polyolefin
Teflon
Teflon Jacketed or Shrink over Stainless Steel Armor
Diameter
Probe: 1/4 to 1/2" (6.4 to 12.7 mm)
Sheath O.D.: 1/4 to 5/8" (6.4 to 15.9 mm)
Tip O.D.: 1/8 to 1/4" (3.2 to 6.4 mm)
Electrical Connectors
22 AWG Stranded 3-Conductor
Environmental Protection
IP67 Hermetically Sealed
NEMA 6P Hermetically Sealed
Insulation Resistance
> 100 megaohms at 100 Vdc Lead Wire to Sheath at 25° C (77° F)
Operating Pressure
Sensor psig: 500 (kPa: 3,447, bar: 34.47)
Operating Temperature
-50° to 400° C (-58° to 752° F)
RTD Type
Pt100 DIN EN 60751, α = 0.00385(Ohm/ohm)/°C⁻¹, Class A Single, 4-Wire
Sensor, Probe Connection
2-Wire Single, Dual
3-Wire Single, Dual
4-Wire Single
Storage Temperature
-50° to 125° C (-58° to 257° F)
Temperature Range
-50° to 400° C (-58° to 752° F)
Sensor: -200° to 600° C (-328° to 1,112° F)
Tri-Clamp Connection
1" Hygienic Clamp Union
1-1/2" Hygienic Clamp Union
2" Hygienic Clamp Union
2-1/2" Hygienic Clamp Union
3" Hygienic Clamp Union
Wetted Materials
316 Stainless Steel
316L Stainless Steel
Sanitary Design, Hermetically Sealed, Extension Cable
Stainless Steel Construction
Connection: Tri-Clamp, All Standard Sizes