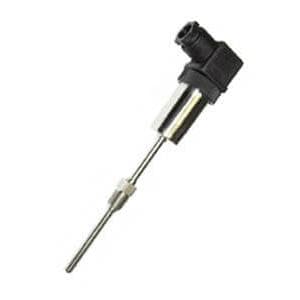 Images are representations only.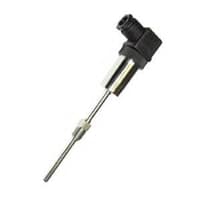 INTEMPCO TMR25 temperature sensor employs a Pt100 Class A resistance temperature detector (RTD) combined with an integrated loop-powered 4-20 mA output transmitter.

Electrical connection to the TMR is Hirschmann (DIN 43650) plug. This sensor is rugged and all Stainless Steel 316 construction.

Fittings, 1/4" to 1" NPT welded to tube, are available for mounting purposes. An adjustable bore-through compression fitting option is also available.

This allows for easy adjustment of desired immersion depth. The unit is factory calibrated to customer temperature requirements.
Features
High accuracy
Micro-Processor based design
Fully field re-programmable with module & PC based software
2-wire loop-powered 4-20 mA output
Factory calibrated or customer calibrated
Stainless steel body, rugged and compact
Specifications
Accuracy
± (0.05° C (0.09° F) + 0.05 % of Calibrated Span) with Two-Point Calibration
± (0.10° C (0.18° F) + 0.10 % of Span) with One-Point Calibration
Ambient Temperature Range
-40° to 80° C (-40° to 176° F)
Current
Excitation Current RTD: 0.2 mA
Environmental Protection
IP65
IP66
NEMA 4X (IEC 529)
Materials of Construction
Armor over Teflon Cable & Ferrule: Stainless Steel
Ferrule: Brass
Ferrule: Teflon
NPT Connection
1/2" NPT Male
1/4" NPT Male
1/8" NPT Male
3/4" NPT Male
3/8" NPT Male
Operating Temperature
-40° to 80° C (-40° to 176° F)
Output
0-10 Vdc Linear to Temperature, 3-Wire
0-5 Vdc Linear to Temperature, 3-Wire
1-5 Vdc Linear to Temperature, 3-Wire
4-20 mA Linear to Temperature, 2-Wire
Power Supply
12-32 Vdc Polarity Protected
Process Connection Material
Process Fitting Details
Adjustable Fitting
Fixed Immersion Fitting
Resistance
Sensor Lead Resistance: RTD Resistance +2 times Lead Wire < 6,000 ohms
RTD Type
Pt100, 3-Wire, Alpha = 0.00385, DIN EN 60751
Sensor Circuit
2.5 mA Downscale for 4-20 mA Output
24 mA Upscale for 4-20 mA Output, 3-Wire
Sensor, Probe Diameter
1/8 to 1/2" (3.17 to 12.7 mm)
Sensor, Probe Length
2.5 to 12" (63.5 to 304.8 mm)
Sensor, Probe Material
316 Stainless Steel
316L Stainless Steel
Stability
Long Term Drift: ≤ 0.1 % of Full Scale Per Year, 3-Wire
Storage Temperature
-40° to 80° C (-40° to 176° F)
Temperature Range
Sensor: -200° to 600° C (-328° to 1,112° F)
Industrial Design, Hermetically Sealed, With Extension Cable
Stainless Steel Construction
Connection: NPT, all Standard Sizes & Other