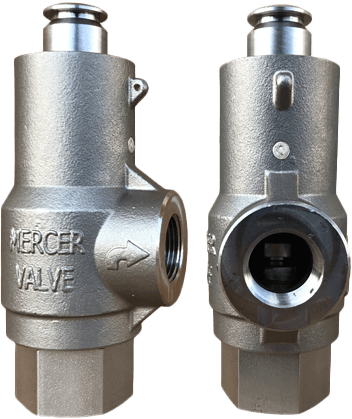 Images are representations only.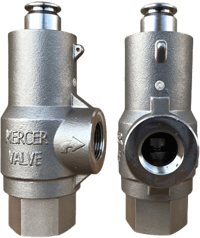 The 1400 Series is a safety relief valve designed for lower capacity systems.

The unique design of the 1400 Series incorporates features of our patented Auto Seat Technology® that allows for less leakage and a more consistent set pressure.

The smaller size of the valve allows for easier installations in tight confined spaces and allows for smaller inlet and outlet connections.

The 1400 Series is certified through ASME Boiler Pressure Vessel Code Section VIII, Division 1 for Air and Gas Service.

The 1400 Series is designed for applications ranging from 500-PSI up to 6,000-PSI.
Features
Incorporated features of "Auto Seat Technology"® 
Consistent Set Pressures allowing repeatable uses without repair or resetting. 
Open, Close, Seat and Seal. TM 
Fully guided disk keeps the disk properly aligned, opening and closing, helping to reseat the valve. 
Mechanical Stop prevents wear on parts and controls valve lift. 
Low rated and fully guided spring allows for more consistent set pressures from pop to pop. 
Pop Action relief allows valve to go to full lift at set pressure. Helps with DOT regulated applications. 
Built in accordance with the requirements of ASME Boiler and Pressure Vessel Code. Sec. VIII Div 1. 
Non-rising stems allowing valves to be installed in small areas.
Specifications
Orifice Diameter, in (mm)
Equivalent Flow Coefficient (Gas)
Pressure Range, psig (kPag)
150 to 6000 (1034 to 41368)
Std Temp Range, °F (°C)
-20° to 400° (-29° to 204)