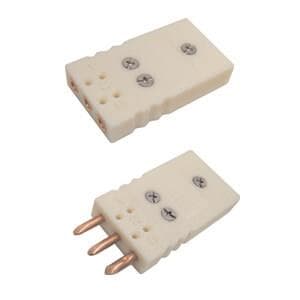 Images are representations only.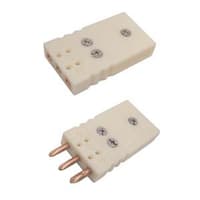 The INTEMPCO PRC Series is a high performance, low cost RTD Programmable Temperature Connector/Transmitter.

Based on Intempco's patented MIST technology, the Analog output can be re-scaled, recalibrated and reprogrammed to customer needs via a MIST-Pkit (PC interface module and software).

The PRC features an encapsulated miniature signal conditioner built into a RTD standard 3-pole connector.

This integral design converts resistive change of an RTD sensor or probe across a programmable temperature range to an industry standard Analog output.

Your PRC Connector/Transmitter can be factory pre-calibrated to your specifications, which is the preferred method of most users.

Optionally, by use of PRC-MIST Pkit, you can field reprogram the PRC yourself.
Features
Programmable 2-wire 4-20 mA or voltage output
Standard 3-pole jack or plug RTD connector
For Pt100 3-wire RTDs
High accuracy, repeatability and stability
Factory calibrated or customer calibrated
Fully field re-programmable with module & PC based software
For OEMs to assemble their own programmable probes
Specifications
Accuracy
± (0.05° C (0.09° F) + 0.05 % of Calibrated Span) with Two-Point Calibration
± (0.10° C (0.18° F) + 0.10 % of Span) with One-Point Calibration
Ambient Temperature Range
-40° to 85° C (-40° to 185° F)
Current
Excitation Current RTD: 0.2 mA
Enclosure, Body Material
ABS Plastic
Brass Inserts
Copper Contacts
Steel Screws
Environmental Protection
IP65
IP66
NEMA 4X (IEC 529)
Output
0-10 Vdc, 3-Wire, Linear to Temperature
0-5 Vdc, 3-Wire Linear to Temperature
1-5 Vdc, 3-Wire Linear to Temperature
4-20 mA, 2-Wire Linear to Temperature
Power Supply
12-32 Vdc Polarity Protected
Resistance
Sensor Lead Resistance RTD: RTD Resistance +2 times Lead Wire Resistance < 4,000 ohms
RTD Type
Pt100 3-Wire, α = 0.00385, DIN EN 60751
Sensor Circuit
2.5 mA Downscale (For 4-20 mA Output Only)
24 mA Upscale (For 4-20 mA Output Only)
Stability
Long Term Drift: ≤ 0.1 % of Full Scale Per Year
Storage Temperature
-40° to 85° C (-40° to 185° F)
Temperature Range
-200° to 600° C (-328° to 1,112° F)