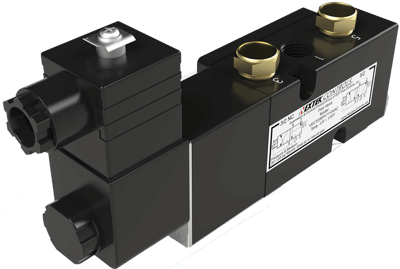 Images are representations only.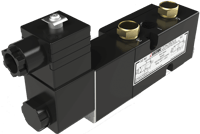 The VECTOR Series Pilot Valves are UL approved, direct mount (NAMUR VDI/VDE 3845) valves used to pilot pneumatic actuators.

The valve is a universal type (5/2 convertible to 3/2) and can be easily field retrofitted for use on double acting or spring return actuators.

The VECTOR-PV7 is [ATEX] Rated version for Hazardous Areas. Also available in a NEMA 4/4X Version VECTOR-PV4 and the Intrinsically Safe NAMUR Pilot Valve VECTOR-PV9.

The VECTOR Series are fitted with a manual override function - helpful in the event that the valve must be cycled when electrical supply is unavailable.
Features
May be used as a 3-way or 4-way pilot valve for spring return and double acting actuators respectively
Available in different voltages (120 VAC, 220 VAC, 24 VDC)
NAMUR Mounting Interface
ATEX approved for Hazardous Areas
Class "H" coil standard. Coil insulation rating is 356°F (180°C)
Easily field retrofitted for Spring Return and Double Acting applications
Specifications
Air Pressure
Operating: 40 psi to 120 psi
Maximum Design Pressure: (175 psi) Intermittent
Voltages
Standard:: 60 Hz AC - 110 V/120 V, 220 V || DC - 24 V
Optional:: 60 Hz AC - 24 V
Rating/Enclosure
IP66, ATEX approved for Hazardous Area Locations Weight1.0 lbs. Order Example: (VECTORPV7110 Vac)