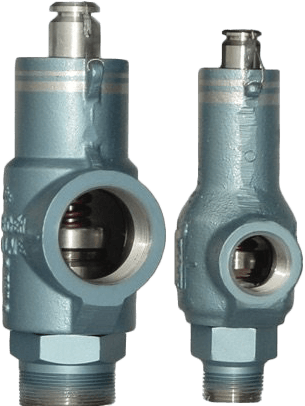 Images are representations only.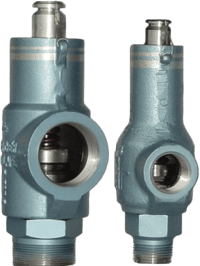 The Mercer Valve 8100 Series Pressure Relief Valve is "State of the Art" in soft seat, high flow rate, pressure relieving devices.

The 8100 Series spring operated valve was the first pressure relief valve to incorporate Mercer Valve's patented "Auto Seat Technology"® into its design.

Our "Auto Seat Technology"® incorporates a fully guided disk and low rate spring to ensure an accurate and repeatable set pressure.

The low rated, guided spring will reduce stresses on the spring, giving you a consistent, repeatable set pressure, which will continually out last the competition.

The soft seated 8100 Series has a field-proven lip seal design, which allows for a tighter seal up to set pressure. This tight seal reduces leaks and limits product loss.

Our non-rising stem allows us to produce a valve with a shorter bonnet, which will be lighter and fit in tighter confined spaces.

The 8100 Series is manufactured in accordance with the requirements of ASME Boiler and Pressure Vessel Code, Section VIII, Division 1 for Air/Gas.

The 8100 Series is well suited for compressors, separators, transmission, gathering lines, and other production processes.
Features
Designed with "Auto Seat Technology"®. 
Consistent Set Pressures allowing repeatable uses without repair or resetting. 
Open, Close, Seat and SealTM. 
Fully guided disk keeps the disk properly aligned, opening and closing, helping to reseat the valve. 
Mechanical Stop prevents wear on parts and controls valve lift. 
Low rated and fully guided spring allows for more consistent set pressures from pop to pop. 
Pop Action relief allows valve to go to full lift at set pressure. Helps with DOT regulated applications. 
Built in accordance with the requirements of ASME Boiler and Pressure Vessel Code. Sec. VIII Div 1.
Non-rising stems allowing valves to be installed in small areas.
Specifications
Inlet Sizes Available
1/2" Orifice: 3/4" NPT, 1" NPT
3/4" Orifice: 1-1/2" NPT, 2" NPT
Inlet and Outlet Connection Types Available
Male NPT x Female NPT
Female NPT x Female NPT
Pressure Ranges
15 to 2400 psi
15 to 2000 psi
Standard Temperature Range
Equivalent Flow Coefficient (Gas)