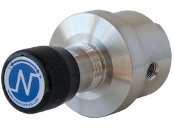 Images are representations only.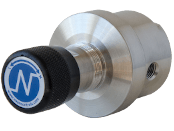 Designed for applications with low inlet pressures or higher flows, the Series 20 can handle inlet pressures as high as 6000 psig.

Even with large changes of flow, the regulator can closely hold to its set outlet pressure, making this regulator a good choice as a primary regulator feeding another downstream regulator.

When used with optional low Cv values the Series 20 becomes a super-sensitive regulator, where the high diaphragm to Cv ratio gives excellent control, even to very low pressures in inches of water column.

Designed to offer many choices to match your specific needs, the Series 20 is available in different body materials, Cv values, porting options, and seat materials.
Features an 316L stainless steel standard construction
316L stainless steel diaphragm
Optional panel mount
Minimal droop with large flow increases
Extreme sensitivity with low Cv options
Outlet ranges of up to 500 psig
1/8" to 1/2" connection options
Max Cv of 1.12, Min Cv of 0.03
Specifications
Maximum Outlet Pressure
2, 10, 25, 50, 100, 250, 500 psig
70, 175, 345, 690, 1725, 3450, 5170, 6895 kPa
.7, 2, 4, 7, 20, 35, 50, 70 bar
Leakage
Internal: Bubble tight
External: Designed to meet < 2 x 10-8 atm/cc He
Operating Temperature
-40° F to 185° F / -40° C to 85° C
Flow Capacity
0.03, 0.07, 0.24, 0.3, 0.35, 0.58, 1.12
Filter
10 micron 316L Stainless Steel
Seat
PCTFE, PEEK, Teflon, Tefzel, Viton
Diaphragm
316L Stainless Steel with Teflon liner