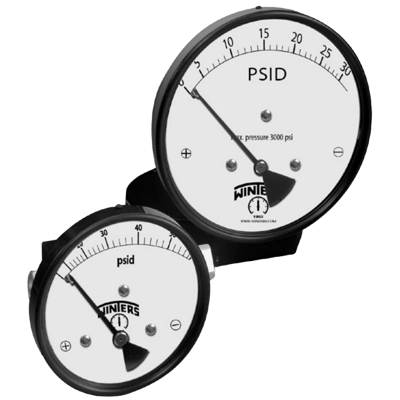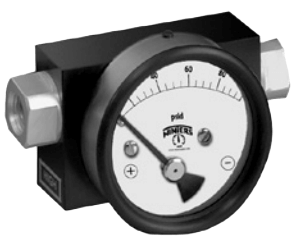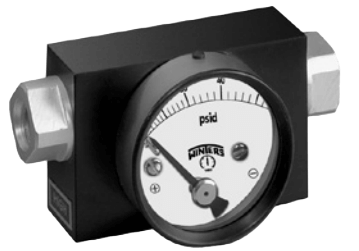 Images are representations only.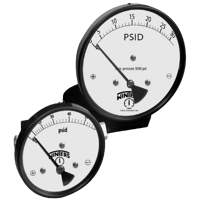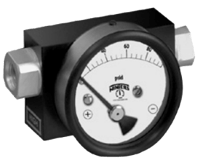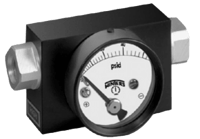 Specifications
Versatile high static low differential pressure gauge
Switches available for actuation
ASME B40.100 compliant
IP65 enclosure rating
5 year warranty
Specifications
Accuracy
± 2 % of Full Scale Value
Adapter
1/2" NPT Female Stainless Steel Adapter
Ambient Temperature Range
-40° to 93° C (-40° to 200° F)
Approvals & Certifications
Differential Pressure
psid: 0 to 100 (kPa: 0 to 700, bar: 0 to 7)
Electrical Rating
0.25 A at 125 Vac/dc, 3 W
0.5 A at 230 Vac/dc, 25 W
Enclosure, Body Material
Aluminum
Brass
Plastic
Stainless Steel
Lens
Acrylic Lens
Safety Glass
Maximum System Pressure
Aluminum, Stainless Steel (SST) psi: 3,000 (kPa: 20,000, bar: 200)
Brass psi: 1,500 (kPa: 10,000, bar: 100)
Mounting
2" Pipe Mounting Kit
Wall Mounting Kit
NACE & NIST
NACE for Sour Gas Applications
Name Plate, Tag Material
Stainless Steel with Stainless Steel (SST) Wire & Screw
NPT Connection
1/2" NPT Female
1/4" NPT Female
Pressure Range
bar: 0 to 7
kPa: 0 to 700
psi: 0 to 100
Seat / Seal Material
Seal: Buna-N
Seal: Ethylene Propylene
Seal: Neoprene
Seal: Silicone
Seal: Viton
Sensor, Probe Type
Convoluted Diaphragm Sensor
Size
Dial: 2-1/2" (63 mm)
Dial: 3-1/2" (90 mm)
Dial: 4-1/2" (115 mm)
Special Cleaning & Packaging
Cleaned for Oxygen Service
Wetted Materials
Stainless Steel (SST) with Buna-N Seal
Filtration Systems
Low Pressure Gas Systems
Leak Detection
Ideally Suited for Use on Dissimilar Fluids and Wet Gas or Fluids With High Concentration of Particles. 
Suitable for Use With a Diaphragm/Chemical Seal.