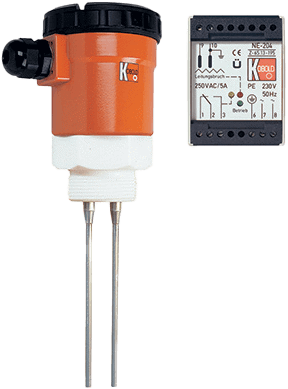 Images are representations only.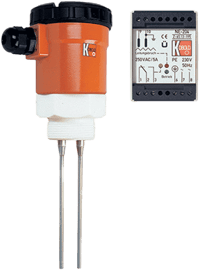 KOBOLD NE conductive liquid level switches are made in the USA and are designed for monitoring the level of moderately to strongly conductive liquids in tanks and vessels.

The simple design incorporates no moving parts and makes these conductive liquid level switches especially suitable for difficult applications, such as monitoring the level of low density liquids, high viscosity liquids, or liquids containing large quantities of suspended particulates.

Conductive level switches operate through measurement of the electrical resistance between a sensing electrode and a reference electrode.

A complete NE Series level switch system consists of a reference electrode, a sensing (control) electrode and a relay/power supply like our NE-5048 Electrode Relay for Conductive Level Switches.

Up to six conductive electrodes may be mounted on each NE unit, for a total of up to six switch points.

A wide range of available materials, including 316-Ti stainless steel, Hastelloy® or titanium with optional polyolefin or PTFE coating of electrodes, makes the NE ideal for use with corrosive or dirty media.

The KOBOLD NE Conductive Level Switch Series also features the NEH Cable Suspended Conductive Level Switch for applications that require much longer probe lengths and for applications in tanks with low overhead clearance which restricts or complicates installation.
Features
For Conductive Liquids Only (>20 uS/cm)
Multiple Switchpoints
Usable with Dirty / Corrosive Media
Highly Reliable
Made in the USA
Quick Delivery
Specifications
Contacts
Up to 6 Contacts via External Relays
Material
Stainless Steel
Hastelloy
Titanium with Polyolefin
PTFE Cladding
Maximum Temperature
Up to 300° F w/PTFE Cladding