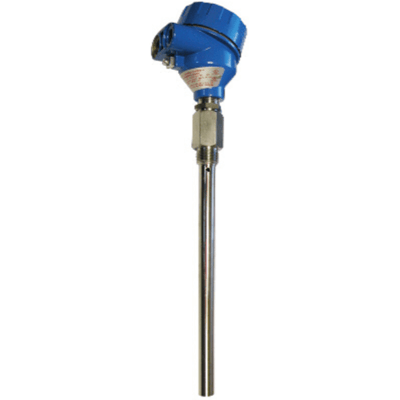 Images are representations only.
Intempco manufactures the LTX20 oil level sensor capacitance probe with a head mounted 4-20ma analog output transmitter as a tank level indicator gauge.

This continuous fuel oil level sensor measures a change in capacitance on the tank level probe based on the liquid in direct contact with the fluid level measurement sensor.

Includes an industrial level transmitter that converts the highly accurate capacitive sensor level probe signal to a linear 4-20ma analog output to monitor and control biofuel, diesel, hydraulic oil or food oil .

LTX20 tank level sensors are currently used to monitor diesel fuel level for stationary or mobile generators.

This tank level sensor is shock resistant and very rugged. There are no moving parts. Splashing or wave action will not damage the sensor.
Features
Designed for fuel, diesel, biofuel
3/4" NPT Process Connection
3/4" concentric tube design
Accuracy 1% of span for constant dielectric of material
Tube and inner probe SS316
For use with metallic and non-metallic tanks
OEM applications, low cost
Continuous loop powered 4-20mA operation
Non-interactive zero and span calibration
Explosion Proof USL/CNL
CSA Class 1 Div 2 Groups A,B,C,D
Specifications
Ambient Temperature Range
-40° to 70° C (-40° to 158° F)
Approvals & Certifications
CSA (C,US) - Class I, Div. 2, Groups A, B, C, D, Hazardous Locations
UL (C,US) - Class I, Div. 2, Groups A, B, C, D Harzardous Locations
Calibration
Via 4 Push-Button Switches, Non-interactive Zero & Span
Enclosure Finish
Aluminum Coated with Chemically Resistant Paint
Humidity
10 to 55 % Relative Humidity
Measuring Range
0 to 10 feet (0 to 3.04 metres)
NPT Connection
1" NPT Male
3/4" NPT Male
Power Supply Effect
< 0.1 % of Output at, Max.
Pressure Range
bar: 1 to 34
kPa: 100 to 3,400
psi: 14.5 to 500
Process Connection Material
Response Time
2 to 30 seconds with Adjustable Damping Time
Less than 2 to 3 seconds with No Damping Time
Sensor, Probe Diameter
Probe O.D.: 0.75" (19 mm)
Sensor, Probe Material
Probe: 316L Stainless Steel
Probe: PFA Fully Insulated Rod
Diesel Fuels
MEK and Other Solvants
Transmission Oils
Steering and Hydraulic Fluids
Engine Oils
Methanol
Ethanol
Vegetable Oils
Do Not Use With: Materials Corrosive to SS316, Heavy oils