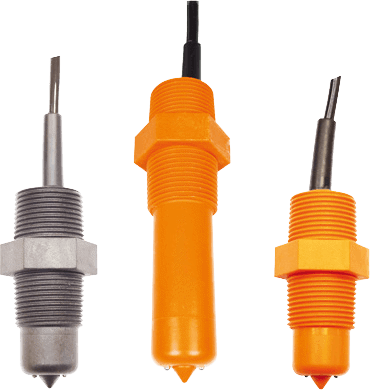 Images are representations only.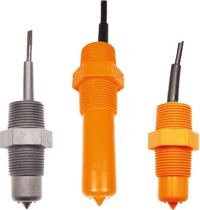 The KOBOLD NEK compact conductive level switch is an excellent choice for economically monitoring the level of sufficiently conductive liquids in tanks.

The level switch senses liquid level by applying a low AC voltage to a set of stainless steel electrodes.

When a sufficiently conductive liquid is present, a small current will flow between the electrodes, resulting in switch activation.

The plastic NEK is available with either a PPS or polypropylene body with standard 316-Ti stainless steel electrodes.

This makes the level switch suitable for many compatible chemicals and media.

The solid-state design has no moving parts, so the switch is also a sure bet for level sensing of contaminated liquids as well as those with high solids content.
Features
Compact Design
No Moving Parts
Excellent for Dirty, Low-Viscosity or Aggressive Conductive Liquids
Transistor Switch or Relay Output
Made in the USA
Quick Delivery
Specifications
Compatible Media
For Conductive Liquids Only
Sensing Electrode Material
Maximum Pressure
Polypropylene: 87 psig
PPS: 290 psig
Maximum Temperature
Polypropylene: 140° F
PPS: 185° F
Switching Output
PNP or NPN Open Collector or SPDT Relay