Images are representations only.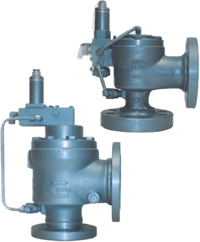 The 9500 Series Safety Relief Valves are "State of the Art" in pilot operated pressure relief valves.

Mercer offers both a snap and modulating pilot.

Mercer pilot operated valves are constructed with the same care and precision as our other valve lines.

The pilot operated valves continue using our patented "Auto Seat Technology"® in the main valve and pilot valves, making the pilot operated valves as reliable as Mercer's spring operated valves.
Features
Designed with "Auto Seat Technology"®. 
Consistent Set Pressures allowing repeatable uses without repair or resetting. 
Open, Close, Seat and SealTM. 
Low rated and fully guided spring allows for more consistent set pressures. 
Built in accordance with the requirements of ASME Boiler and Pressure Vessel Code.  Sec. VIII Div 1. 
Non-rising stems allowing valves to be installed in small areas.
Specifications
Standard Inlet Sizes
1", 1 1/2"
1-1/2", 2"
2", 3"
3"
3", 4"
4"
6"
8"
Actual Orifice Diameter (inch)
0.439"
0.533"
0.687"
0.844"
1.050"
1.350"
1.625"
2.020"
2.280"
2.500"
3.000"
4.000"
4.750"
5.750"
Actual Orifice Area (in²)
0.151 in²
0.223 in²
0.371in²
0.559 in²
0.866 in²
1.431 in²
2.074 in²
3.205 in²
4.083 in²
4.909 in²
7.069 in²
12.566 in²
17.721 in²
25.967 in²
Pressure Ranges (psi)
15 to 4500
15 to 3000
15 to 3750
15 to 2220
15 to 1480
15 to 900
15 to 1530
Flow Coefficient, Kd (Gas)
Flow Coefficient, Kd (Liquid)