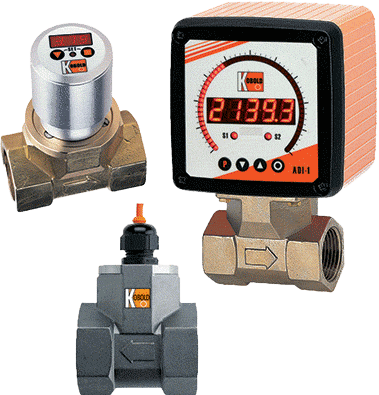 Images are representations only.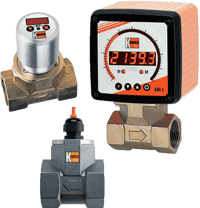 The KOBOLD DRB paddle-wheel flow meter can measure the flow of liquids in pipes up to 3 inches in diameter with pressures up to 250 PSIG.

It uses a PVDF paddle that's designed to slightly protrude into the flow stream, enabling the flow meter to measure fluids with some small solids content, as well as dirty liquids, with a much lower risk of failure.

The paddle, supported on a sapphire bearing system, is durable, has an extended life span and provides excellent chemical resistance. The DRB is available with stainless steel or brass threaded bodies.

A Hall-effect sensor detects the passing of permanent magnets embedded in the paddle-wheel blades.

The sensor's output is then transformed to a linear pulse frequency output or 4-20 mA signal.

Optional displays and controllers are available to provide analog outputs, local flow rate indication, and programmable setpoint switches.
Features
Brass or Stainless Steel Bodies
Low Pressure Loss
Pulse Frequency, 4-20 mA or Switch Output
Optional Digital Flowrate Indicators, Rate-Totalizing Display, or Batching Electronics
Specifications
Outputs
Pulse Frequency
4-20 mA Analog
Digital Display
Switches