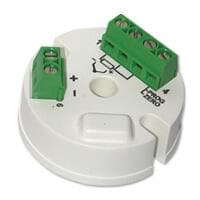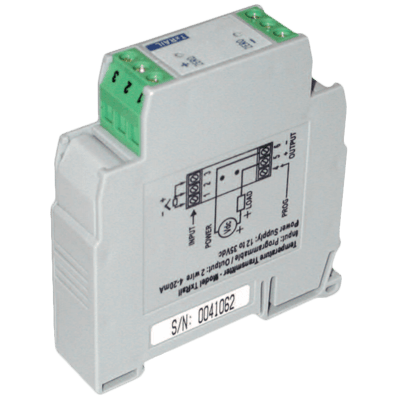 Images are representations only.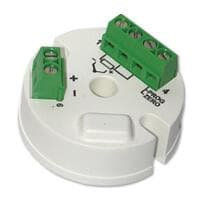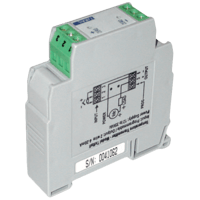 MP200 series comes factory calibrated but is also a fully customer re-programmable temperature transmitter.

In-the-field configuration of input type and working range can be achieved by means of a cable and an RS232 port from a PC.
Features
Programmable input: Thermocouple, RTD, mV
2 or 3-wire Pt100 input with linearized output
2-wire loop-powered 4-20 mA/20-4 mA output
Cold junction compensation for thermocouples
Configuration with a PC via TxConfig interface
Specifications
Accuracy
Pt100 & Voltage: 0.2 %
Thermocouples: Better than 0.3 % of The, Max.
Input
0-50 mVdc, Impedance > > 1M
Operating Temperature
-40° to 80° C (-40° to 176° F)
Output
2-Wire Loop Powered 20-4 mA, Linear to Temperature
2-Wire Loop Powered 4-20 mA, Linear to Temperature
Power Supply
12-35 Vdc, Across the Transmitter
RTD Type
Pt100, Excitation: 180 µA, 2 or 3-Wire Connection (For 2-Wire Sensors, Tie Terminals 2 & 3 Together) α = 0.00385
Sensor, Probe Type
E Thermocouple
J Thermocouple
K Thermocouple
N Thermocouple
RTD
R Thermocouple
S Thermocouple
T Thermocouple
Span - Minimum
Thermocouple: 40° to 400° C (104° to 752° F)
Voltage: 5 mV
Temperature Range
0° to 1,760° C (32° to 3,200° F)