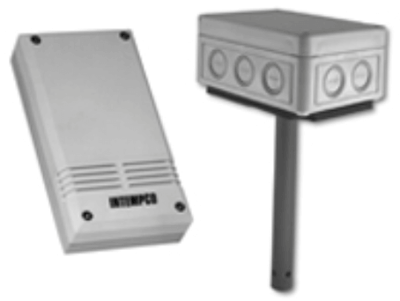 Images are representations only.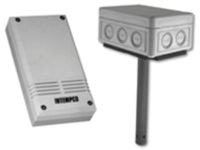 The INTEMPCO HTX series humidity transmitters offer high accuracy, low cost humidity, and temperature measurement that can withstand tough industrial and HVAC applications.

The rugged solid state sensor has high chemical contamination resistance and handles extreme ventilation conditions, like swimming pool environments, with ease. Even water immersion of the sensor will not damage it.
Features
Low cost
On-board zero and span adjustments
Rugged design using solid state sensors
High accuracy (±3% over 0 to 90% RH standard)
2-Wire, loop-powered operation (4-20 mA output)
Temperature compensated humidity measurement
Factory calibrated (0 to 100% RH standard, custom ranges available)
Integrated loop-powered temperature transmitter available
Specifications
Accuracy
± 0.15° C (0.25° F) - Temperature Transmitter
± 0.3° C (0.5° F) at Room Temperature - Temperature Transmitter
± 3 % Relative Humidity, Max.
Load Resistance
100 ohms at 12 Vdc
500 ohms at 24 Vdc
Operating Temperature
-23° to 85° C (-10° to 185° F) Non-Condensing
RTD Type
Pt100 DIN 43760
Pt1000 DIN 43760
Sensor, Probe Type
RTD
Thermister (10,000 ohms & 3,000 ohms)
Stability
± 0.1° C (0.18° F) Typical at Room Temperature Per 5-Years - Temperature Transmitter
± 1 % Relative Humidity Typical at 50 % Relative Humidity in 5-Years - Humidity Transmitter
Storage Temperature
-50° to 85° C (-58° to 185° F) Non-Condensing
Time Constant
50 seconds in Air at 10 feet/sec - Humidity Transmitter