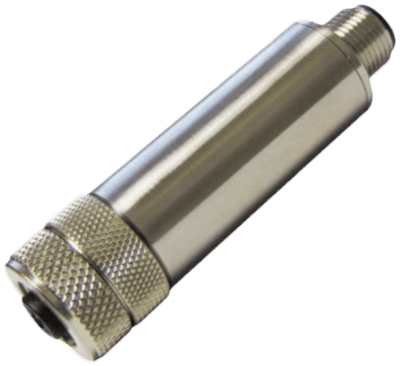 Images are representations only.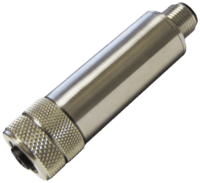 The MP100 Series loop-powered RTD temperature transmitters are of very new and unique design.

Micro-processor based and housed in a compact stainless steel body, they offer M12 electrical connections.

As such they are designed to connect to RTDs with M12 male receptacles.

This eliminates the need for remote connections to DIN-rail transmitters mounted in panels, thus reducing wiring errors and cost.

The advanced programming, via the MIST-PKIT communication module, allows for one or two point calibration, re-scaling, filtering, and tagging.

M100 transmitters are completely linearized to temperature, very accurate and a new concept to temperature measurement.
Features
Designed for RTDs with M12 receptacle
Micro-Processor based design
Fully field re-programmable with module & PC based software
Input RTD Pt100 with 2, 3 or 4-wire element
2-wire loop-powered 4-20 mA output
Factory calibrated or field calibrated
Stainless steel body, rugged and compact
Specifications
Accuracy
± (0.05° C (0.09° F) + 0.05 % of Calibrated Span) with Two-Point Calibration
± (0.10° C (0.18° F) + 0.10 % of Span) with One-Point Calibration
Current
Excitation Current RTD: 0.2 mA
Electrical Connectors
M12 Male Receptacle Connector
Materials of Construction
Contacts: Brass Tin-Plated
Inserts: Nylon Black
Operating Temperature
Housing: -40° to 80° C (-40° to 175° F)
Output
4-20 mA Loop Powered, Linear to Temperature
Power Supply
12-32 Vdc, Polarity Protected
Resistance
Sensor Lead Resistance RTD: RTD Resistance + 2 times lead wire resistance must be less than 6,000 ohms
Resolution
Output Resolution: 0.0005 mA (15-bits)
RTD Type
Pt100, Alpa = 0.00385, DIN EN 60751, DIN EN 60751
Sensor Circuit
Open Circuit Detection: 2.5 mA Downscale for 4-20 mA Output
Open Circuit Detection: 24 mA Upscale for 4-20 mA Output
Stability
Long Term Drift: ≤ 0.1 % of Full Scale Per Year
Storage Temperature
-40° to 80° C (-40° to 176° F)
Temperature Range
Software Re-Scalable: -200° to 600° C (-328° to 1,112° F)