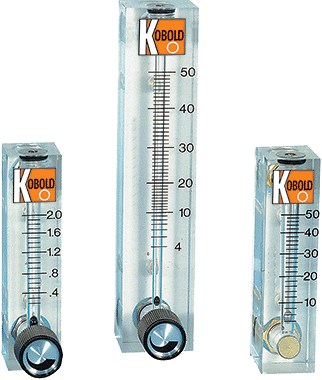 Images are representations only.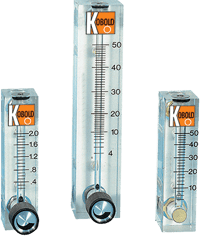 The KFR line of acrylic body variable area flow meters offers the perfect balance between low-cost, accuracy and range availability.

Bridging the microflow and large flow ranges, this flow meter can provide an effective solution to many industrial applications.

It has a one-piece acrylic body with PVC or metal fittings for durability. To take the guesswork out of reading the flow, large lettering and extra hash marks make the scale clearly visible.

Further enhancing readability, the low flow rotameters offer an inherently stable float design, while the larger flow meters feature a float stabilization mechanism.

In the larger flow ranges, the stabilization mechanism allows a smaller installation footprint at a correspondingly lower price.

Most units are offered both with and without control valves. Accuracy, value, low cost are three not-so-mutually-exclusive attributes made possible by KOBOLD KFR flow meters.
Features
Clear, Easy to Read Scales
Compact Size
Durable Construction
Low Cost
Metric Scales Available
Quick Delivery
Specifications
Measuring Ranges
0.2-2 GPH to 2-20 GPM
0.1-1 SCFH to 10-100 SCFM
Air Sampling Equipment
Aquaculture
Desalinization
Gas Analysis
Medical Industry
Water Treatment