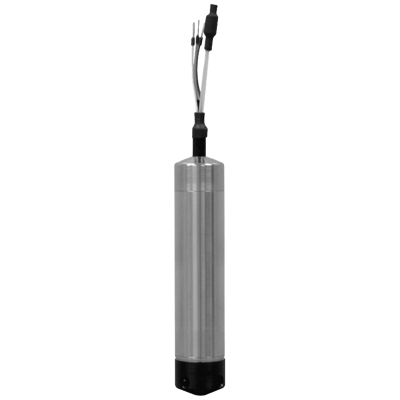 Images are representations only.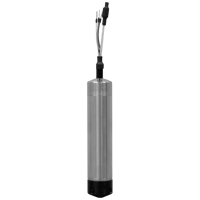 Specifications
Designed for continuous level measurement in water or wastewater (thin film)
Good linearity for long term stability
Available ranges from psi: 0 to 300 (kPa: 0 to 2,068, bar: 0 to 20.68)
Wide range of mechanical and electrical connections
±0.5% accuracy
NEMA 6P / IP68. Approved for outdoor use
Customizable
Specifications
Accuracy
≤ ± 0.5 % of Full Scale Output
Approvals & Certifications
CE
CSA
EMC Directive: 2004/108/EC
RoHS
Burst Pressure
psi: 58 to 725 (kPa: 400 to 5,000, bar: 4 to 50)
Cable Material
Cable with Sheath: FEP (Black)
Cable with Sheath: PUR (Black)
Cable with Sheath: PVC - Grey
Capacitance
Cable Capacitance (Signal Line / Shield & Signal Line / Signal Line): 160 PF/m
Circuit Protection
EMI/RFI Protected: Emission & Immunity According to EN 61326
Reverse Polarity Protection
Short Circuit Protected
Consumption
Current Consumption, Current: 25 mA - Max.
Current Consumption, Voltage: 7 mA - Max.
Inductance
Cable Inductance (Signal Line/Shield & Signal Line/Signal Line): 1 µH/m
Load
Current 3-Wire: Rmax = 500 ohms
Voltage 3-Wire: Rmin = 10 kiloohms
Load Effect
0.05 % of Full Scale Output / kiloohms
Output
2-Wire: 4-20 mA/Vs = 8-32 Vdc
3-Wire: 0-10 V/Vs = 14-30 Vdc
3-Wire: 0-20 mA/Vs = 14-30 Vdc
Overpressure & Static Pressure Limits
Overpressure psi: 9 to 580 (kPa: 62 to 4,000, bar: 0.62 to 40)
Power Supply Effect
0.05 % of Full Scale Output / 10 V
Pressure Range
bar: 0 to 20.7
kPa: 0 to 2,068
psi: 0 to 300
Process Temperature
-10° to 70° C (14° to 158° F)
Seat / Seal Material
Seal: EPDM
Seal: FKM
Seal: Kalrez
Seal: Viton
Storage Temperature
-25° to 70° C (-13° to 158° F)
Temperature Effect
≤ ± 0.2 % of Full Scale Output/10 K
For All Level & Depth Measurement Applications
Ground Water Monitoring
Open Tanks
Sewage & Water Treatment Facilities