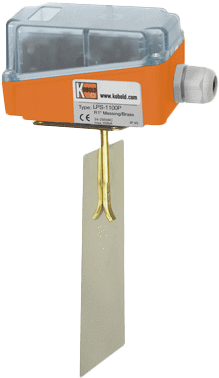 Images are representations only.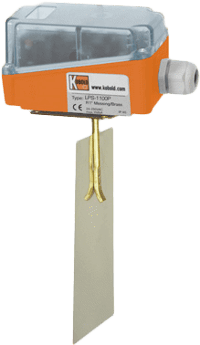 KOBOLD LSP air flow switches are widely used to control air flow setpoints in HVAC duct applications. The principle of operation is quite simple. Air flow exerts a force on a paddle, actuating a dust-tight SPDT micro switch.

The switching point may be adjusted continuously within a wide range, making the LSP useful in a wide variety of applications. The flow switch is factory set to switch at 195 FPM.

To handle air velocities greater than 920 FPM, the paddle may be cut at a pre-calibrated mark. This automatically changes the factory setpoint to 490 FPM.
Features
Adjustable Switch point
SPDT Mechanical Switch
For Horizontal Square/Rectangular HVAC Ducts
Quick Delivery
Specifications
Wetted Materials
Galvanized Steel
Brass
Stainless Steel
Housing
Base: ABS
Cover: Polycarbonate
Switch Capacity
15 A Resistive
8 A Inductive
Mounting
Flat Plate for Square/Rectangular HVac Ducts
Air Conditioning Ducts
Air Discharge and Exhaust Gas Channels
Pneumatic Conveyors
Filtration
Cyclones
 Cooling and Drying Plants
Blower Performance Monitoring