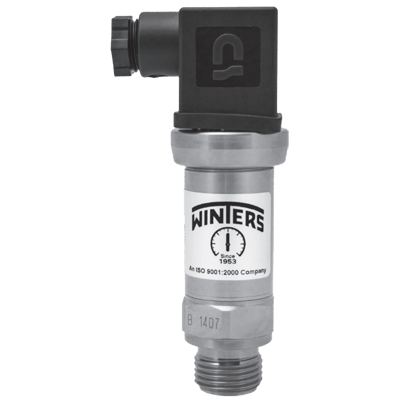 Images are representations only.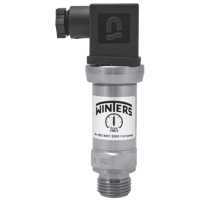 Specifications
Unique flush stainless steel diaphragm eliminates any cavity that could form a build-up
316-grade thick diaphragm provides higher overpressure and spike protection
Available ranges include vacuum up to psi: 5,800 (kPa: 39,990, bar: 399.9)
Wide range of mechanical and electrical connections
Cooling tower option for increased temperature tolerance
Optional FDA-approved food-compatible oil
±0.50% accuracy
NEMA 4X and NEMA 6P / IP65 and IP67
Customizable
Specifications
Accuracy
± 0.5 % of Full Scale Output
Approvals & Certifications
CE
EMC Directive: 2004/108/EC
FDA
RoHS
BSP Connection
G 1" Male
G 1/2" Male
G 3/4" Male
Burst Pressure
psi: 109 to 9,427 (kPa: 751.5 to 65,000, bar: 7.51 to 650)
Capacitance
Cable Capacitance (Signal Line / Shield & Signal Line / Signal Line): 160 PF/m
Circuit Protection
EMI/RFI Protected: Emission & Immunity According to EN 61326
Reverse Polarity Protection
Short Circuit Protected
Compensated Temperature
-20° to 85° C (-4° to 185° F)
Consumption
Current Consumption, Current: 25 mA - Max.
Current Consumption, Voltage: 7 mA - Max.
Diaphragm Material
316 Stainless Steel Thick Diaphragm Provides Higher Overpressure & Spike Protection
Flush Stainless Steel Diaphragm Eliminates Any Cavity that Could Form A Build-Up
Electrical Connectors
Binder 723, 5-Pin
DIN 43650-A (ISO 4400)
M12 x 1, 4-Pin
Environmental Protection
IP65
IP66
IP67
NEMA 4X
NEMA 6P
Fill Material
Food Grade Oil
Silicone Oil
Inductance
Cable Inductance (Signal Line/Shield & Signal Line/Signal Line): 1 µH/m
Load
3-Wire Current Rmax: 500 ohms
3-Wire Voltage Rmin: 10 kiloohms
Load Effect
0.05 % of Full Scale Output / kiloohms
Materials of Construction
Pressure Port: 316L Stainless Steel
Output
2-Wire: 4-20 mA/Vs = 8-32 Vdc
3-Wire: 0-10 V/Vs = 14-30 Vdc
3-Wire: 0-20 mA/Vs = 14-30 Vdc
Overpressure & Static Pressure Limits
Overpressure psi: 73 to 8,702 (kPa: 503.3 to 60,000, bar: 5.03 to 600)
Power Supply Effect
0.05 % of Full Scale Output / 10 V
Pressure Range
bar: 0 to 400
Inches Hg: -30 to 0
kPa: 0 to 40,000
psi: 0 to 5,800
Process Temperature
Food Grade Oil: -10° to 125° C (14° to 257° F)
Silicon Oil: -40° to 125° C (-40° to 257° F)
Response Time
2-Wire: ≤ 10 milliseconds
3-Wire: ≤ 3 milliseconds
Stability
Long-term Stability: ≤ ± 0.3 % of Full Scale Output/Year at Reference Conditions
Storage Temperature
-40° to 100° C (-40° to 212° F)
Temperature Effect
≤ ± 0.2 % of Full Scale Output/10 K
Temperature Range
Electronics Environment: -40° to 85° C (-40° to 185° F)
Food Grade Oil Overpressure: -10° to 250° C (14° to 482° F) for Cooling Element 300° C (572° F)
Food Grade Oil Vacuum: -10° to 150° C (14° to 302° F) for Cooling Element 300° C (572° F)
Silicon Oil Overpressure: -40° to 300° C (-40° to 572° F) for Cooling Element 300° C (572° F)
Silicon Oil Vacuum: -40° to 150° C (-40° to 302° F) for Cooling Element 300° C (572° F)
Vibration
20 G RMS at 25 to 2,000 Hz
Chemical & Process Engineering
Food Industry & Pulp
Paper & Mining
Utilized in Conjunction with Viscous Fluids or Media Which May Clog A Standard Process Connection