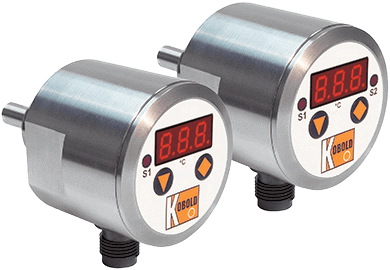 Images are representations only.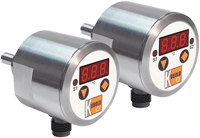 The KOBOLD TDD digital temperature switch integrates the latest solid-state sensing technology into a very versatile, simple-to-operate package.

Programming features include set point, reset point, window mode, dampening, switch logic and user-selectable lockout code.

The digital semiconductor sensing system and solid-state transistor switch ensure an exceptionally long cycle life with virtually no calibration drift.

These features, along with the compact, rugged stainless steel package, make the TDD an ideal choice for OEM or industrial applications.

The TDD is available with the controller mounted directly onto the sensing probe or separated for mounting the probe remotely from the controller.

Various probe lengths are available. The remote probe version has a smooth shank (no fitting), allowing the user to adjust the probe insertion depth by installing with a compression fitting sold as an accessory item.
Features
User Adjustable Switchpoint(s)
Large, Easy-to-Read LED Display
All Stainless Steel Construction
Rugged and Reliable
Remote Sensor Version Available
Specifications
Fittings
1/2" NPT
3/4" NPT
G 1/2
G 3/4
Switch Output
1x or 2x PNP or NPN Transistor, 300 mA Max.