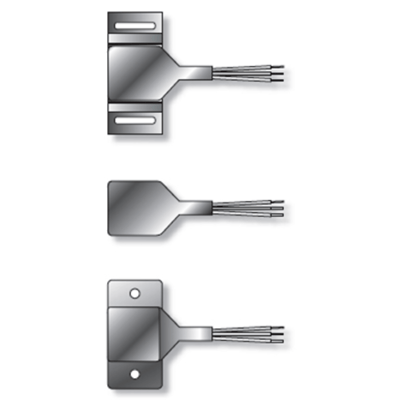 Images are representations only.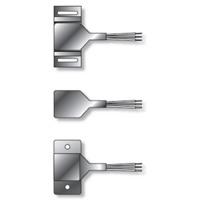 Flexible Surface-Mount RTD, Also known as strap-on RTD's, these flexible sensors are designed to be mounted directly onto a pipe or other surface where temperature measurement is desired.

Due to their excellent thermal conductivity and large surface area, these sensors offer a rapid response time. These probes are typically used where direct immersion measurement is difficult.

For example, flexible RTD's mounted on the surface of a pipe offers a good approximation of the fluid temperature carried inside; motors fitted with strap-on RTD's can be monitored for overheating.

Their silicone body is naturally moisture resistant and can withstand industrial conditions. Flexible surface-mount units have high accuracy over their useable range of approximately -50° to 200° C (-100° to 392° F).
Features
Strap-on flexible RTD for mounting on pipes
Rigid version available for mounting on plates
Excellent thermal conductivity and rapid response time
Silicone body is moisture resistant
Teflon insulation cable standard
2, 3, or 4 wire circuit types
Isolation to 1000 VDC
Temperatures to 200°C (400°F)
Specifications
Approvals & Certifications
ASTM E1137
BS 1904: 1984
DIN 43760: 1980
IEC 751: 1995 (Amendment 2)
JIS C1604-1981
SAMA RC-4-1966
Element
1,000 ohms at 0° C (32° F), α = 0.00385 DIN EN 60751 & α = 0.00375
100 ohms at 0° C (32° F), α = 0.00385 DIN EN 60751 & α = 0.003916 JEMIMA (JIS)
Materials of Construction
316 Stainless Steel
Hastelloy C
Incoloy 600
Monel 400
Mounting
Surface Mount Solid Plate (1/16" THK Aluminum)
Temperature Range
-50° to 200° C (-58° to 392° F)
Tolerance
Class B Resistance Tolerance at 0° C (32° F): ± 0.12 % (± 0.3° C)
Class C Resistance Tolerance at 0° C (32° F): ± 0.23 % (± 0.6° C)