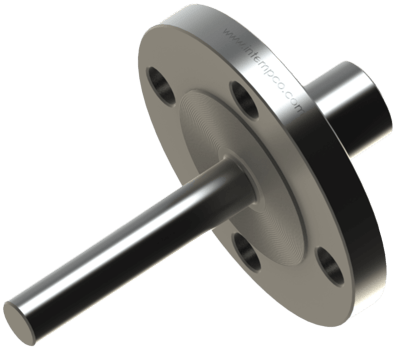 Images are representations only.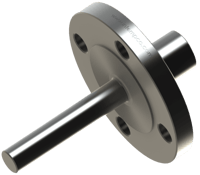 Flanged thermowells are made from solid barstock stems welded to forged flanges and machined.

Full penetration welds are available on all sizes, and available with CRN. Flange sealing face profiles are available as Raised Face, Flat Face, and Ring Type Joint.

RF type sealing faces have a surface finish of 125 to 250 μin Ra (3.2 to 6.3 μm) for better sealing against Gaskets.

Straight stems have a large uniform diameter up to the Tip. The heavy wall on the entire length of the stem gives them longer service life.

They are also well suited for the uniform application of protective coatings or used with protective tantalum sleeves.
Features
Solid barstock and forgings, welded and machined
ASME B16.5 Flange standards
Straight stem profile
Raised face, flat face, and ring type joint
Standard bores for 6 mm, 0.250" and 0.375" diameter probes
CRN available
Specifications
Approvals & Certifications
CRN
Internal Hydrostatic Pressure Test
Liquid Dye Penetration Testing
Well Material Certificate
X-Ray Test
Bore Size
0.245" (6.2 mm) for 6 mm Diameter Probe
0.260" (6.6 mm) Standard for 1/4" Diameter Probe
0.385" (9.8 mm) for 3/8" Diameter Probe
Flange Size - 1" (DN 25)
1" (DN 25) - 150# ASME
1" (DN 25) - 1500# ASME
1" (DN 25) - 300# ASME
1" (DN 25) - 600# ASME
1" (DN 25) - 900# ASME
Flange Size - 1-1/2" (DN 40)
1-1/2" (DN 40) - 150# ASME
1-1/2" (DN 40) - 1500# ASME
1-1/2" (DN 40) - 300# ASME
1-1/2" (DN 40) - 600# ASME
1-1/2" (DN 40) - 900# ASME
Flange Size - 1-1/4" (DN 32)
1-1/4" (DN 32) - 150# ASME
1-1/4" (DN 32) - 1500# ASME
1-1/4" (DN 32) - 300# ASME
1-1/4" (DN 32) - 600# ASME
1-1/4" (DN 32) - 900# ASME
Flange Size - 2" (DN 50)
2" (DN 50) - 150# ASME
2" (DN 50) - 1500# ASME
2" (DN 50) - 300# ASME
2" (DN 50) - 600# ASME
2" (DN 50) - 900# ASME
Flange Size - 2-1/2" (DN 65)
2-1/2" (DN 65) - 150# ASME
2-1/2" (DN 65) - 1500# ASME
2-1/2" (DN 65) - 300# ASME
2-1/2" (DN 65) - 600# ASME
2-1/2" (DN 65) - 900# ASME
Flange Size - 3/4" (DN 20)
3/4" (DN 15) - 900# ASME
3/4" (DN 20) - 150# ASME
3/4" (DN 20) - 1500# ASME
3/4" (DN 20) - 300# ASME
3/4" (DN 20) - 600# ASME
Flange Size - 3" (DN 80)
3" (DN 80) - 150# ASME
3" (DN 80) - 1500# ASME
3" (DN 80) - 300# ASME
3" (DN 80) - 600# ASME
3" (DN 80) - 900# ASME
Flange Size - 3-1/2" (DN 90)
3-1/2" (DN 90) - 150# ASME
3-1/2" (DN 90) - 1500# ASME
3-1/2" (DN 90) - 300# ASME
3-1/2" (DN 90) - 600# ASME
3-1/2" (DN 90) - 900# ASME
Flange Size - 4" (DN 100)
4" (DN 100) - 150# ASME
4" (DN 100) - 1500# ASME
4" (DN 100) - 300# ASME
4" (DN 100) - 600# ASME
4" (DN 100) - 900# ASME
Flange Type
Flat Face (FF)
Raised Face (RF)
RTJ - Ring Typical Joint
Insertion 'U' Length
0.1 to 36" (2.54 to 914.4 mm)
Instrument Connection
1/2" BSPP Female
1/2" NPS Female
1/2" NPT Female
G 1/2" Female
Lagging Extension
0.1 to 12" (2.54 to 304.8 mm)
Materials of Construction
304 Stainless Steel
304L Stainless Steel
316 Stainless Steel
316L Stainless Steel
Hastelloy C-276
Inconel 600
NPS Connection
1" NPS Female
1-1/2" NPS Female
1-1/4" NPS Female
2" NPS Female
2-1/2" NPS Female
3" NPS Female
3/4" NPS Female
3-1/2" NPS Female
4" NPS Female
Plug Material
Stainless Steel Plug with Chain
Sensor, Probe Diameter
Probe: 1/4" (6.35 mm)
Probe: 3/8" (9.5 mm)
Probe: 6 mm
Special Cleaning & Packaging
Cleaned for Oxygen Service
Thermowell
Thermowell Style: Flanged Straight