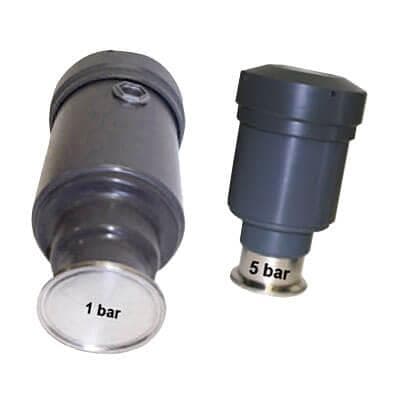 Images are representations only.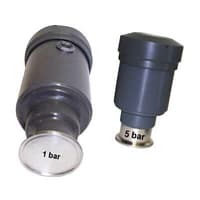 Specifications
SS 316L face material c/w Hygienic Clamp (Tri-Clamp) Mtg. base
Simple push-button calibration (accurate)
Output 4-20 mA/20-4 mA (isolated on 4-wire model's only)
Built-in temperature compensation
Optional RS232 or RS485 communications with calibration, diagnostics and data logging software
PLC compatible
Three and four wire operation
Specifications
Accuracy
± 0.1 % of, Max.
± 0.25 % of, Max.
Loop Powered Display: ± 0.5 % of Reading
Ambient Temperature Range
-40° to 60° C (-40° to 140° F)
Calibration
Push Button or Programmable Via Optional Communications Port
Current
Loop Powered Display: 150 mA - Max.
Display
Head Mounted LCD Display
Loop Powered Display: 4-1/2-Digit LCD 1/2" High
Humidity
Loop Powered Display: 0 to 95 % Non-Condensing
Load Resistance
Supply Voltage: 750 ohms, Max.
Pressure Range
bar: 1 to 5
kPa: 100 to 500
psi: 14.5 to 72.52
Range
0.4 to 30 feet (0.12 to 9.1 metres)
Loop Powered Display: 3.5-22 mA [22 mA & above = LOE (Loss of Echo)]
Sensor, Probe Material
Sensor: 316L Stainless Steel
Supply Voltage
115 Vac (± 20 %), 1.7 VA
12-30 Vdc, 0.07 A, Max.
230 Vac (± 20 %), 1.7 VA
Temperature Range
Sanitary Nozzle: -40° to 130° C (-40° to 266° F) for 1/2-Hour Steam Cleaning
Sanitary Nozzle: -40° to 60° C (-40° to 140° F) for No Steam Cleaning (CIP)
Tri-Clamp Connection
1-1/2" Hygienic Tri-Clamp
2" Hygienic Tri-Clamp
Voltage Drop
Loop Powered Display: 0.95 V at 20 mA
Food & Beverage
Pharmaceutical 
Water