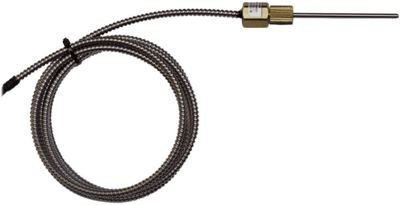 Images are representations only.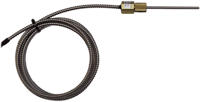 The Intempco Pete's Plugs temperature probes are well suited for most plant and pipeline systems including hot and chilled water systems, heat exchangers, pumps, differential temperature readings, air, gas lines, and many other applications.

The PETE01 will fit Pete's Plug to insulate the test point without adding extra fittings.
Features
Available as RTD probes and thermocouple probes
RTD Precision Thin Film 100 Class A or 1,000 Ohms Class B DIN Platinum, Elements per IEC60751 (alpha = 0.00385 Ohm/Ohm/° C)
Thermocouples types K, J, T, E available with standard tolerance limits
Probe material is stainless 304, others available
Fits standard Pete's Plug Adapter
Temperature range -50 to 200° C (-58° to 392° F)
Specifications
Cable Material
PVC
Stainless Steel Armor
Teflon
RTD Type
Pt100 ohm at 0° C (32° F), α = 0.00385 ohm/ohm/°C
Pt1000 ohm at 0° C (32° F), α = 0.00385 ohm/ohm/°C
Sensor, Probe Length
Probe: 1.5 to 3" (38.1 to 76.2 mm)
Sensor, Probe Material
Probe: 304 Stainless Steel
Sensor, Probe Type
E Thermocouple
J Thermocouple
K Thermocouple
T Thermocouple
Temperature Range
-50° to 200° C (-58° to 392° F)
Tolerance
Element: ± 0.06 % (± 0.15° C) at 0° C (32° F), Class A
Element: ± 0.12 % (± 0.3° C) at 0° C (32° F), Class B