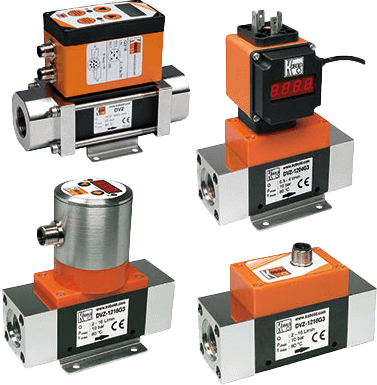 Images are representations only.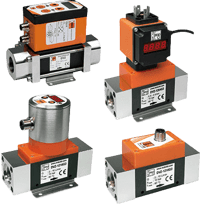 KOBOLD DVZ inline vortex flow meters for low viscosity liquids feature a long service life and low maintenance as they do not utilize a mechanical means of measurement, where components can break or wear out, and are the perfect solution for applications requiring reliability and low cost.

The DUK is available with a PPS body and your choice of either nickel-plated brass or 316 stainless steel fittings.

The bluff body is available in either the standard PPS or optional ceramic material, which has excellent long-term wear characteristics even under harsh operating conditions.

Available outputs for the DVZ include pulse frequency, 4-20 mA, adjustable relay, and compact electronics with LED digital flow rate display, 4-20 mA output and adjustable transistor switch options.

The DVZ senses flow rate using the vortex-shedding principle. A small obstruction, known as a bluff body or shedder-bar, is placed within the flow path.

As flow occurs past the bluff body, small low-pressure vortices (swirls) are created just behind it. The vortices alternate to either side of the bluff body in a uniform pattern and the frequency of the vortex shift is directly proportional to flow rate.

A very sensitive pressure sensor is used to detect the shifts and a scaled flow rate signal is produced.
Features
Vortex Shedding Technology with No Moving Parts
PPS Body with Ni-Plated Brass or SS Fittings
Outputs: Analog, Frequency, Switching, Digital Flowrate Indication, Batching and Totalizing Electronics
Fixed or Rotatable Connections
Specifications
Range
0.13-1.2 GPM to 2.7-26 GPM
Fittings
1/4" to 1" NPT
G 1/4 to G 1 Threads
Fitting Material
Ni-Plated Brass
Stainless Steel
Maximum Media Temperature
Ideal for Aggressive, High Purity, or Salty Solutions