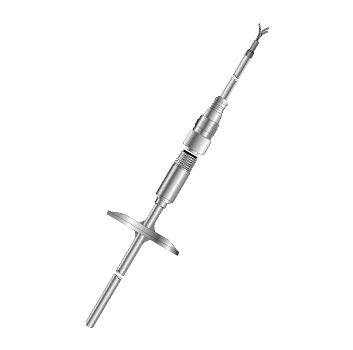 Images are representations only.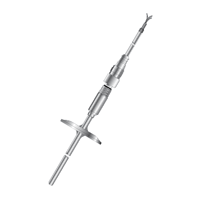 Install directly into process line for fast response. Probes, made of polished 316 stainless steel, are free of cracks and crevices that might shelter bacteria.

External cables, which are quick dis-connect Brad Harrison type, will withstand washdown; optional stainless steel armor prevents abrasion wear.

Choose from standard sanitary cap styles to match your pipe installation: Tri-clamp, Cherry-Burrel, Bevelled seat and others available. For electrical output (4-20 mA, RS 232, RS 485 and others).
Features
Sanitary 3-A qualified
Material: 316 stainless steel
Finish ( standard): Polished to #4 finish per 3-A standard 74-06, 32 micro-inches maximum
Finish ( pharmaceutical): Polished to mirror finish and passivated.10 micro-inches typical
Insulation resistance


Single element probes - 100 Megaohms minimum at 500 Vdc, leads to case
Dual element probes: 100 Megaohms minimum at 100 Vdc, between element and leads to case
Specifications
Approvals & Certifications
Cable Material
Polyolefin Shrink over Stainless Steel Armor
PVC
Teflon
Teflon Shrink over Stainless Steel Armor
Diameter
Probe Diameter: 1/4 to 1/2" (6.4 to 12.7 mm)
Sheath O.D.: 1/4 to 5/8" (6.4 to 15.9 mm)
Tip O.D.: 1/8 to 1/4" (3.2 to 6.4 mm)
Environmental Protection
IP67
NEMA 6P Hermetically Sealed
Insulation Resistance
> 100 megaohms at 100 Vdc Lead Wire to Sheath at 25° C (77° F)
Operating Pressure
Sensor psig: 500 (kPa: 3,447, bar: 34.47)
Operating Temperature
-50° to 400° C (-58° to 752° F)
RTD Type
Pt100 DIN EN 60751, α = 0.00385° C⁻¹, Class AA, A, B, C
Sensor, Probe Connection
2-Wire Single, Dual
3-Wire Single, Dual
4-Wire Single
Storage Temperature
-50° to 125° C (-58° to 257° F)
Tri-Clamp Connection
1" Hygienic Clamp Union
1-1/2" Hygienic Clamp Union
2" Hygienic Clamp Union
2-1/2" Hygienic Clamp Union
3" Hygienic Clamp Union
Wetted Materials
316 Stainless Steel
316L Stainless Steel