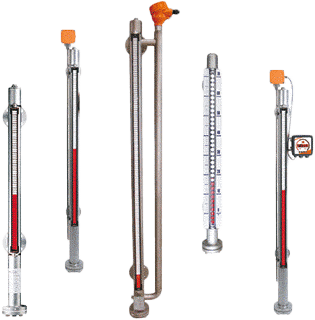 Images are representations only.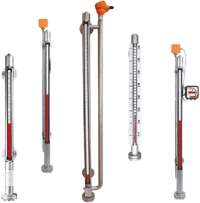 KOBOLD's NBK exterior bypass tank level indicators and gauges are made in the USA and provide reliable visual indication, continuous measurement, and/or control of liquid levels.

They are built for free-flowing compatible media types with viscosities less than 200 cPs.

The NBKs feature an all metal construction that eliminates the breakage and leakage problems frequently experienced with other glass tube designs.

The NBK's design relies on the hydrostatic pressure principle to display the tank's liquid level in a side-mounted high visibility measuring gauge.

A float, which contains a ring magnet, rises and falls with the liquid level in the bypass tube.

Visual indication, signal transmission or switching may be achieved by mounting these magnetically-sensitive devices on the exterior of the bypass tube.

These devices then track or are activated by the ring magnet located inside the float as it moves with changes in liquid level.
Features
KOBOLD Circular Magnet System is Effective from All Sides
Media Temperatures to 750 °F
Industrial Ruggedness
Made in the USA
Top Seller
Specifications
Maximum Measuring Length
18 ft, Longer with Extended Design
Fittings
1/2" to 1-1/4" NPT
1/2" to 2" ANSI Flange
Maximum Pressure
NPT to 3600 psig
Flanged per ASME B 16.5 RF-2009
Options
Resistive Transducer
4-20 mA Transmitter
Switches
Measuring Scale