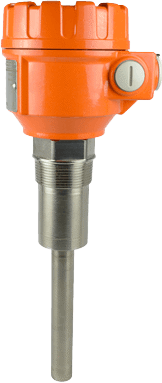 Images are representations only.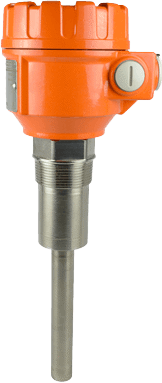 The NVI vibrating level switches for dry materials are designed specifically to monitor the level of powdered, granular or pelletized solids.

The level switch's unique design uses the resonance principle with a single smooth, corrosion-resistant stainless steel probe that resists becoming coated even when used with solids that tend to cake or coat and is essentially self-cleaning.

Designed for top or side mounting, this level switch has no moving parts, so high reliability and a long service life are assured.

The NVI offers adjustable sensitivity and can be used with solid materials with a minimum density of 3.2 lb/ft³.
Features
For Level Monitoring of Powders & Granulated Solids
Suitable for Solids with a Minimum Density of 3.2 lb/ft³
Unique Single Probe Design is Resistive to Coating Media
Can Be Top or Side Mounted
Specifications
Media Temperature Range
Standard: -22° F to 230° F
Optional: -22° F to 320° F
Switch Contact
1 SPDT Relay, 250 Vac/8A Max.
Plastics Industry: Powders and Granular Materials
Chemical Industry: Powders, Pellets, and Crystals
Food Industry: Grain, Corn, Flour, Animal Feed
Paper Industry: Cellulose, Wood Chips
Recycling: Plastic Granules, Paper Shavings
Power Stations: Flue Dust, Lime, Coal
Construction: Cement, Sand, Lime