Images are representations only.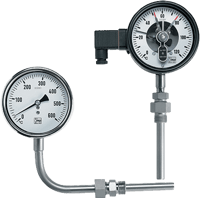 KOBOLD TNS rigid stem thermometers are highly versatile and rugged gas-filled thermometers for industrial applications.

The TNS is available as a simple temperature indicating device or as a controller with one to four adjustable switch points.

The sensing bulb is filled with inert nitrogen.

Temperature changes at the bulb cause a change in nitrogen pressure, which is sensed in the indicating mechanism and displayed as a change in temperature.

The stem thermometer is available with a variety of optional oil fillings for high-vibration applications, as well as with dial sizes ranging from 63 to 250mm (2.5" to 10") and with a variety of fittings to suit nearly any application.
Features
Gas-Filled, Rigid Stem Thermometer
All Stainless Steel Wetted Parts
Available With Up To Four Switches
Specifications
Measuring Range
-40° F to 100° F
32° F to 1100° F
Fittings
1/2" NPT
1" NPT
g 1/2
G 1
Housing Diameter
63 mm
80 mm
100 mm
160 mm
250 mm
Chemical Industry
Petrochemical Industry
Food Industry
Mechanical Engineering
Pipe and Tank Construction
Process Engineering