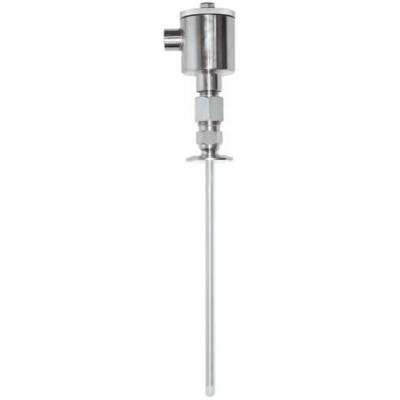 Images are representations only.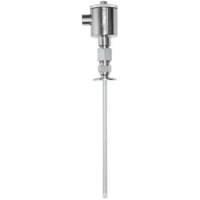 The INTEMPCO LTX10 Sanitary series are highly reliable and microprocessor based RF level sensors designed to measure tank levels of conductive and non-conductive liquids in metal tanks.

LTX10 sensors measure the change in capacitance that occurs as the tank level changes and outputs a standard loop-powered 4-20 mA signal.

After calibration any change in level is recognized and converted to an Analog 4-20 mA signal.

LTX10 sensors use very high frequency and very low amplitude sensing circuitry to greatly minimize the effects of coating on the sensing probe.

The LTX10 includes a standard 4-20 mA loop-powered LTX transmitter housed in a rugged enclosure, a 1/2" (12.7 mm) diameter rigid probe for ranges up to 20 feet (6.09 meters) and a polished stainless Tri-Clamp.

Probe material is SS316, supplied bare or PFA jacketed. The LTX10 is designed for tanks which have available Tri-Clamp connection.
Features
High quality sanitary design
Continuous loop-powered 4-20 mA operation
Microprocessor based
Accuracy 1% of span for constant dielectric of material
Non-interactive zero and span calibration
Calibration accomplished with 4 push buttons
Stainless and PVC housings available
Tri-Clamp sanitary fitting standard, others available
PFA Teflon coated or bare SS316 probes available
Specifications
Accuracy
± 1 % of Full Span (Constant Dielectric)
Ambient Temperature Range
-40° to 70° C (-40° to 158° F)
Cable Length
0 to 1,000 feet (0 to 300 metres)
Calibration
Via 4 Push-Button Switches
Conduit Connection
1/2" NPT Female
3/4" NPT Female
PG9 Gland
Enclosure, Body Material
Cast 316 Stainless Steel
Machined 316 Stainless Steel
PVC
Materials of Construction
Mounting Fitting: 316 Stainless Steel
Output
4-20 mA, 2-Wire Loop Powered
Pressure Range
bar: 1 to 34
kPa: 100 to 3,400
psi: 14.5 to 500
Sensor, Probe Length
Probe: 6 to 240" (152.4 to 6,096 mm)
Sensor, Probe Material
Probe: Bare 316 Stainless Steel
Probe: PFA Teflon Jacketed
Tri-Clamp Connection
1-1/2" Tri-Clamp
2" Tri-Clamp
2-1/2" Tri-Clamp
3" Tri-Clamp
Pharmaceutical Plants, Food Processing Plants
PFA Jacketed Probes Required for Conductive Media, Such as Water and Water-Based Liquids
PFA Jacketed Probes for Organic Acids
PFA Maximum Temperature 200°C
Use Bare Probes With Non-Conductive Media Such as Oils and Fuels in Some Metallic Tanks
On-Site Calibration Required
Not Recommended Where Material Dielectric Changes
Tanks Must be Conductive or Special Grounding May be Required