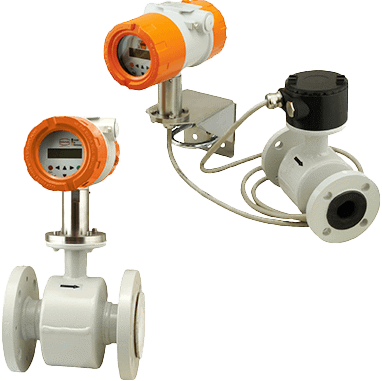 Images are representations only.
The EPS Magnetic Flow Meter delivers accurate, pressure-drop free, volumetric flow measurement of liquids, slurries, pastes, and other electrically conductive media.

The measurement is unaffected by pressure, temperature, density, or viscosity.

The EPS sensor is paired with the KOBOLD UMF2 transmitter, which is available in a compact or a remote version.

The EPS offers several advantages over similar models.

It is designed specifically for reliability and longevity in harsh environments, comes in a wide variety of lining materials to maximize compatibility with the process media, and offers a large selection of process connections.

It also features electrodes in stainless steel, Hastelloy C276, tantalum, platinum-iridium, and titanium.

Linings are available in hard rubber, soft rubber, EPDM, PTFE, and ceramic.

With these features, the EPS is an ideal solution for a wide variety of liquids, pastes, and slurries.
Features
Electrodes in Stainless Steel, Hastelloy®, Tantalum, Platinum-Iridium, or Titanium
Large Selection of Process Connections
For Use in Harsh Environments
HART Communication
IP67 or IP68 Protection
Specifications
Fittings
1/2" NPT Thread
1/2" to 24" ANSI Flange
Lining Materials
Hard or Soft Rubber
EPDM
PTFE
Ceramic
Accuracy
± 0.3 % of Measured Value ± 0.01 %
Repeatability
± 0.15 % of Measured Value