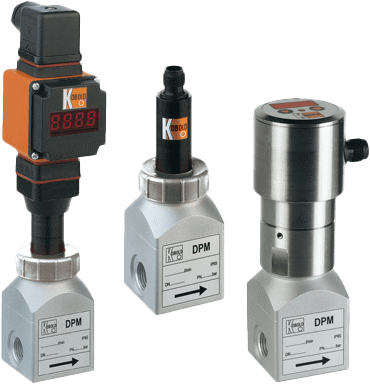 Images are representations only.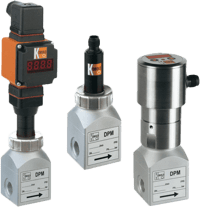 The DPM flow sensor uses the pelton wheel principle to measure the flow of water and water-based, low-viscosity liquids that are optically transparent.

Liquid passes through a nozzle at the inlet of the flow body and is precisely directed onto a flat-blade pelton turbine. The flow sensor's pelton turbine wheel rotates at a speed proportional to flow rate.

The movement of the pelton wheel is detected optically, and the signal from the optical sensor is processed as an amplified pulse or 4-20 mA signal, both of which are proportional to flow rate.

In addition to the DPM's compact design, the inlet flow is redirected via a nozzle; therefore, no inlet or outlet straight piping is required and allows the unit to be mounted in any orientation with the axle remaining in the horizontal plane.

These features make the metal DPM ideal for mounting in locations where space is tight.
Features
Flow Measurement of Low Flow Rates
Compact Design
Long-Life Sapphire Axle/Bearing Assembly
Analog or Frequency Pulse Signal Outputs
Optional Digital Flowrate Indicators
Made in the USA
Quick Delivery
Specifications
Measuring Range
0.24-4.8 GPH to 0.8-80 GPH
Fittings
1/8" NPT
1/4" NPT
G 1/8
G 1/4
Housing Material
Nickel-Plated Brass
316L Stainless Steel
Accuracy
± 1.5 % Full Scale
± 2.5 % Full Scale w/K000 and F300 Output
Signal Output
Pulse Frequency
4-20 mA Analog
Transistor Switch
Display
3-Digit LED or Analog Pointer Indication