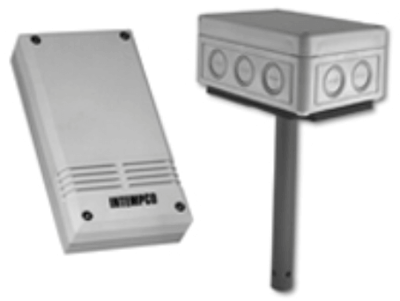 Images are representations only.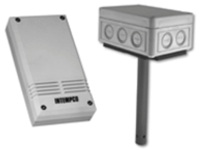 The Intempco HSA is a humidity sensor/controller with several output features.

It may be used as a modulating controller for proportional humidifiers, or as an on/off controller for humidification or dehumidification systems (using the N/C contact).

The setpoint may be offset (downward) due to outdoor temperatures below freezing with the addition of the optional OTS-1 temperature sensor.

An advanced non-linear offset rate is used to allow high offset ratios without the danger of having the setpoint drop too low on very cold days.

An actual setpoint output is available for precise adjustment and monitoring of the reset function, and a humidity output is available for monitoring the actual humidity at the humidistat.

The HSA is rugged and can withstand most ventilation type conditions including swimming pool environments.
Features
Wall mount and duct mount version available
Outdoor temperature offset for setpoint reset due to low outdoor temperature
N/C and N/O contact output for on/off control
Modulation output (0-10V) for proportional control
Setpoint adjustment inside case. No humidistat guard required
Actual humidity output available (0-10V)
Low cost
Can be mounted directly on drywall or with an electrical box
HSA-DM comes with backing gasket and mounting screws for installation directly on ducts
Specifications
Accuracy
Sensor: ± 3 % at 40 % Relative Humidity, 23° C (73.4° F)
Electrical Contacts
Normally Closed
Normally Open
Humidity
Output: 0 to 100 % Relative Humidity
Input
Power: 24 Vac ± 15 %
Power: 27 Vdc (20 to 0 %)
Operating Temperature
10° to 40° C (50° to 104° F), 0 to 95 % Relative Humidity
Output
0-10 Vdc
0-5 Vdc
Contact Output: 3 A at 120 Vac
Storage Temperature
-10° to 50° C (14° to 122° F), 0 to 95 % Relative Humidity