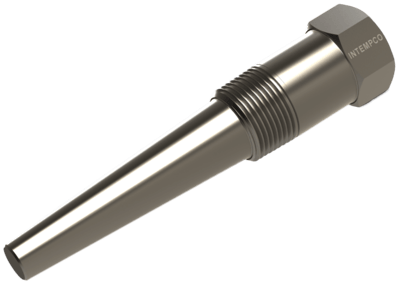 Images are representations only.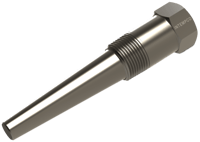 Barstock models are machined from one solid piece of Hexagon or Round Bar.

They offer the highest pressure ratings and strength due to their one piece construction.

Threaded process for screwing into a female threaded process connection such as a threadolet, adaptor or directly to a tapped access port.

Tapered thermowells are the strongest mechanically. The stem starts off at a large diameter (the root or shank diameter) and tapers down to the tip diameter.

This design has a higher natural frequency making them more appropriate for systems with extreme dynamic conditions such as process lines with media flowing at high velocity.
Features
Machined from solid barstock
Tapered stem profile
1/2", 3/4" and 1" NPT connections are standard
BSPP standards available
Standard bores for 6 mm, 3/8", 0.250" diameter probes
CRN available
Specifications
Approvals & Certifications
CRN
Internal Hydrostatic Pressure Test
Liquid Dye Penetration Testing
Well Material Certificate
X-Ray Test
Bore Size
0.245" (6.2 mm) for 6 mm Diameter Probe
0.260" (6.6 mm) Standard for 1/4" Diameter Probe
0.385" (9.8 mm) for 3/8" Diameter Probe
Insertion 'U' Length
0.1 to 36" (2.54 to 914.4 mm)
Instrument Connection
1/2" BSPP Female
1/2" NPS Female
1/2" NPT Female
G 1/2" Female
Lagging Extension
0.1 to 12" (2.54 to 304.8 mm)
Materials of Construction
Thermowell: 304 Stainless Steel
Thermowell: 304L Stainless Steel
Thermowell: 316 Stainless Steel
Thermowell: 316L Stainless Steel
Thermowell: Hastelloy C-276
Thermowell: Inconel 600
NPT Connection
1" NPT Male
1/2" NPT Male
3/4" NPT Male
Sensor, Probe Diameter
Probe: 1/4" (6.35 mm)
Probe: 3/8" (9.5 mm)
Probe: 6 mm
Special Cleaning & Packaging
Cleaned for Oxygen Service