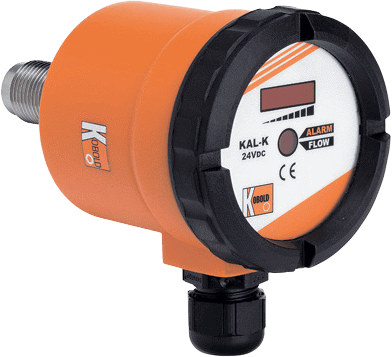 Images are representations only.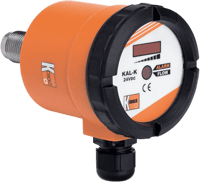 The KAL-K thermal flow switch utilizes KOBOLD's revolutionary, temperature compensating electronics. These compact, one-piece units provide reliable readings largely unaffected by temperature or physical characteristics of a wide variety of water-based process liquids.

This breakthrough is made possible through the use of state-of-the-art microprocessor technology. The microprocessor can be field calibrated to the users' liquid properties and operating range in a simple, five minute set-up procedure.

This intelligence, coupled with a "no moving parts" design, make the KAL-K a superior performer in many tough flow switching applications.

To further enhance the versatility of the KAL-K, it is offered with a NPT or a 3-A compliant Tri-clamp® fitting. The thermal flow switch incorporates an 8 segment bar-graph LED flow trend indicator and one flow alarm setpoint.

The setpoint is fully configurable as NPN, PNP, normally-open or normally-closed.
Features
Revolutionary Microprocessor-Based Drift Stabilization
NPT and 3A Compliant Sanitary Fittings
No Moving Parts
Negligible Pressure Loss
Easy to Operate
Insensitive to Dirt
Made in the USA
Top Seller
Quick Delivery
Specifications
Fittings
1/2" or 3/4" NPT Thread
1-1/2" Tri-Clamp
Wetted Material
304 or 316-Ti Stainless Steel
Maximum Operating Temperature
Input Power
24 Vdc ± 10 %, 110 Vac Optional
Output
NPN/PNP Transistor
N/O Relay