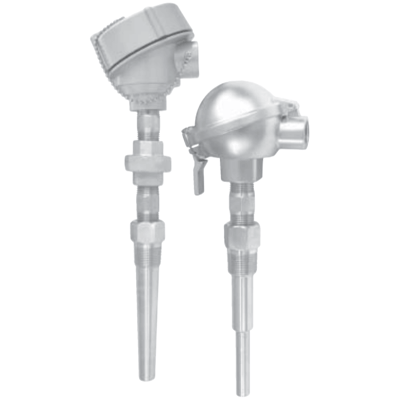 Images are representations only.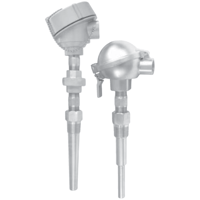 MIST55 RTD Pt 100 temperature sensor is a complete RTD temperature sensor probe, signal conditioner and 4-20 mA output.

You provide the 12-36 Vdc loop power. The Intempco MIST patented RTD (Pt100) sensor probes contain the temperature transmitter within the probe assembly.

The transmitter is hermetically sealed from moisture or contaminants and provides tamper-proof vibration resistance.

The 2-Wire 4 to 20 mA output is stable and accurate. MIST transmitters are shipped at the factory calibrated temperature range , selectable via the ordering code.

Calibration using a temperature bath is not required. The MIST55 has a spring loaded probe and is designed to fit snugly into the bottom of a thermowell.

See the thermowell ordering section to specify the correct length thermowell.
Features
Temperature Range -200° to 600° C (-328° to 1,112° F)
Spring loaded probe for thermowell
Output 2-wire 4-20 mA or 3-wire Vdc
Accuracy ±0.1° C + 0.10% calibrated span
Hermetically sealed transmitter
PT 100 RTD sensor/probe
Field re-programmable temperature range
Requires thermowell installation
Requires 12-36 Vdc loop power
Specifications
Accuracy
± (0.10° C (0.18° F) + 0.10 % of Calibrated Span) with Two-Point Calibration
± (0.25° C (0.45° F) + 0.40 % of Span) with One-Point Calibration
Approvals & Certifications
CSA
FM: Class I, Div. 1, Groups B, C, D, Class II, Division, Groups E, F, G NEMA 4
Diameter
Sheath O.D.: 1/4" (6.35 mm)
Enclosure, Body Material
316 Stainless Steel (Screw Cover)
Aluminum (Screw Cover & Quick Release)
Bakelite (Sccrew Cover)
Sanitary Polypropylene (Screw Cover)
Stainless Steel
Environmental Protection
Explosion-proof
IP66
IP67 Hermetically Sealed
NEMA 4
NEMA 4X
NEMA 6P Hermetically Sealed
Input Impedance
1,000 ohms Min. (of Measuring Device, for Voltage Output)
Materials of Construction
Sheath Material: 316 Stainless Steel
Operating Pressure
Sensor psig: 500 (kPa: 3,447, bar: 34.47)
Operating Temperature
Housing: -40° to 80° C (-40° to 175° F)
Output
0-10 Vdc Linear to Temperature
0-5 Vdc Linear to Temperature
1-5 Vdc Linear to Temperature
4-20 mA Loop Powered, Linear to Temperature
Power Supply
12-32 Vdc Polarity Protected
Process Connection Material
Nipple-Union-Nipple: 306 Stainless Steel
NPT Hex: Nickel-Plated Brass
Process Fitting Details
Nipple / Union / Nipple (C = 5", 7", 9" Long)
Sensor Circuit
2.5 mA Downscale for 4-20 mA Output
24 mA Upscale for 4-20 mA Output
Stability
Long Term Drift: ≤ 0.1 % of Full Scale Per Year
Storage Temperature
-40° to 80° C (-40° to 176° F)
Temperature Range
Sensor: -200° to 600° C (-328° to 1,112° F)
Wetted Materials
316 Stainless Steel, Dual Certified
316L Stainless Steel, Dual Certified
Process Temperature Control
Temperature Limit Control
Programmable Temperature Control
Field Re-range Able Span